Burger King promotion sends customers to McDonald's – sort of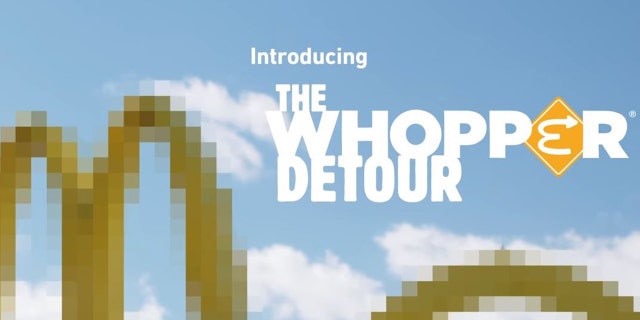 NEWYou can now listen to Fox News articles!
Burger King has found a new way to troll McDonald's — by sending customers there.
In a new promotion called "The Whopper Detour," Burger King is actually encouraging its fans to go to McDonald's for the next week in order to get a Whopper hamburger for a penny.
BURGER KING BRINGS BACK A 90S CLASSIC, CINI MINIS
As part of the marketing gimmick, consumers will have to be within 600 feet of a McDonald's and open up the newly revamped Burger King app. If the customer is close enough to the golden arches, the app will unlock the penny promotion for fans to order.
After the order is placed, the user will be guided toward their nearest Burger King to pick up the Whopper.
BURGER KING CUSTOMER CLAIMS WHOPPER CONTAINED DEAD COCKROACH: 'I HEAVED A LITTLE BIT'
"Don't miss out on your chance to order the first Whopper sandwich ever available only 'at' McDonald's," Burger King said in a statement.
The promotion, which is "turning more than 14,000 McDonald's into Burger King restaurants," will run through December 12 at participating locations.
FOLLOW US ON FACEBOOK FOR MORE FOX LIFESTYLE NEWS
So, if you're itchin' to have it your way — and you're not lovin' McDonald's — head to the nearest Mickey D's for a flame-grilled Whopper.