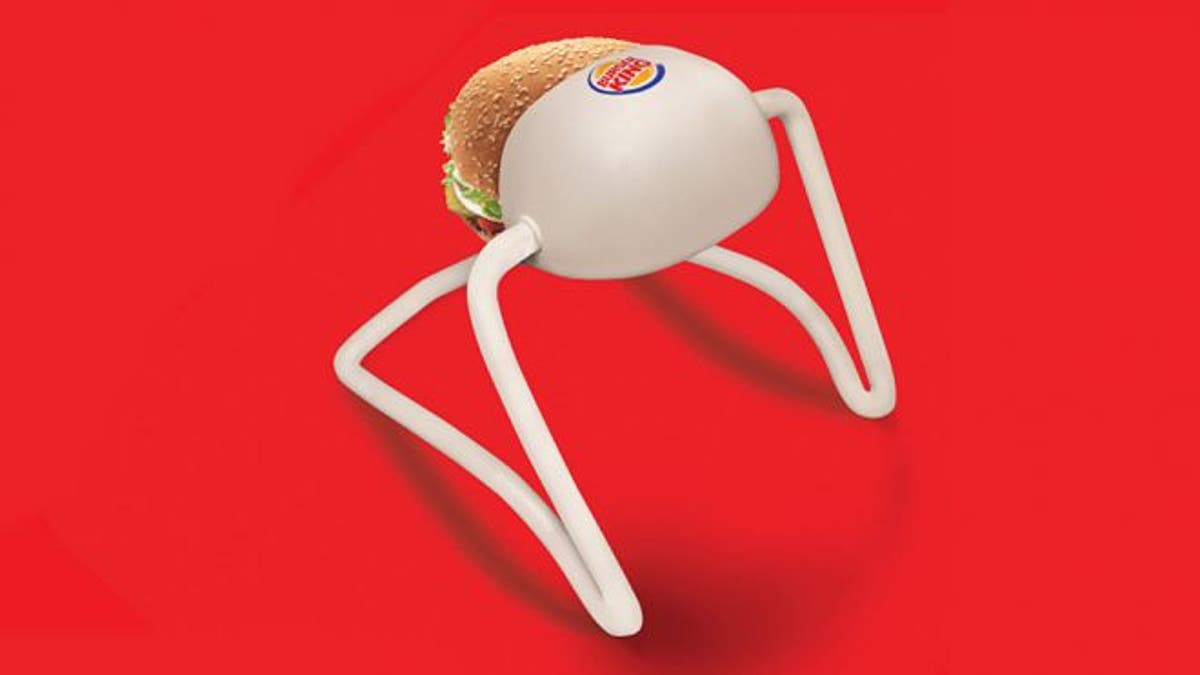 Some saw it as a fast food innovation on par with the spork. Others considered it another sign that tackiness had triumphed over table manners.
But it turns out Burger King's "hands free Whopper holder," which looks like a cross between Bob Dylan's harmonica holder and necklace with a cheeseburger for a pendant, was all a big joke. And the Miami-based chain, which featured the fictitious hamburger harness in a viral video introduced in Puerto Rico to mark its 50th year on the island, doesn't seem to care who fell for it or who saw through it.
"The video featuring a 'hands-free' Whopper sandwich holder was produced by an agency in Puerto Rico to celebrate the brand and the iconic Whopper sandwich in a humorous way," the company said in a statement sent to FoxNews.com. "However, the product depicted in the spot was not produced, or distributed to guests as some reports indicate."
The video, produced in Spanish and English, shows an eclectic mix of people – including a guitarist, a boxer and a dog walker – "multitasking," with a hands-free Whopper feeding device hanging around their necks.
"I need my hands to play for this whooper," sings a guitarist. "I need my hands to savor this big tasty sucker," the song continues, while showing a tattoo artist busy at work.
"I need my hands to satisfy my needs," the song says, as a man in seen applying sunscreen on the back of a topless woman lying on a beach.
"I need my hands to paint my nails … I need my hands to please my wife," the songs continues, while showing a man clipping branches on the side of a house.
The ad concludes by flashing the name of a website called "handsfreewhopper.com," which as of Wednesday was disabled. It's not known whether the website ever existed.
An English-version of the ad seen on Creativity Online's website begins by promising a select group of lucky customers that they will receive the device. It says winners will be notified by phone or email, and shows a person opening a box sent in the mail with the feeding device inside. Creativity Online notes that the ads were created by DLC/Ogilvy & Mather.
Burger King did not respond to further questions about the ad's promise, though it did say, "It was produced by the franchisee's agency in Puerto Rico. BKC does not work directly with franchisee-retained agencies."
Christopher Graves, Ogilvy's public relations' chief executive officer, did not respond to an email seeking comment.
Marketing experts say that the hands-free burger device, while a joke, accomplishes exactly what the food giant intended.
"It evoked a response and got people talking," Erika Napoletano, a Denver-based brand strategist, told FoxNews.com.
"The brand's intention was never to market a whopper holder. It's a brand awareness campaign," Napoletano said. "I would look at this and think, 'Okay, you got my attention. That's hilarious.' I would never walk into a Burger King and think to ask, 'You've got a hamburger holder for me?'"
"It was a gimmick and it worked," she said.