Bud Light might buy free beer for Philadelphia if the Eagles win the Super Bowl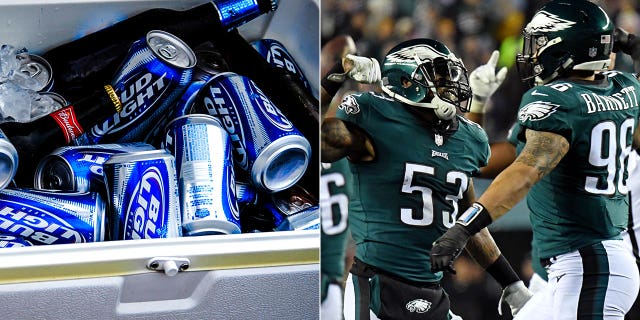 Philadelphia sports fans may have yet another reason to hope their beloved Eagles win the Super Bowl: free beer.
Though the company has not officially confirmed the news, Anheuser-Busch InBev has hinted that it may reward the City of Brotherly Love with free Bud Light if the Eagles manage to win their first-ever Super Bowl championship on Feb. 4.
DOGFISH HEAD BREWERY UNVEILS 'NUTRIENT RICH' BEER FOR SURVIVALISTS
Lane Johnson, an offensive lineman for the Eagles, is largely responsible for this news, as it traces back to a comment he made at a press conference before the 2017 season even started.
"I have a lot to prove to this city … I think if we have a few big years and make the playoffs, if we win a Super Bowl, I'm giving out beer to everybody," he told reporters in late July, according to ESPN.
A few days later, Bud Light tweeted directly at Johnson, telling him they'd pony up the cash for the "party" should the Eagles follow through.
Fast-forward a few months, and the company still hadn't forgotten about its informal agreement with Johnson. In November, Bud Light even responded to a tweet from a Barstool Sports employee who kindly reminded his tens of thousands of followers about Bud Light's "promise."
NEW ZEALANDERS BUILD TINY ISLAND TO AVOID ALCOHOL BAN
More recently, Bud Light told a Philly fan that her team had "one battle left to become victorious" after she tweeted about the company's agreement with Johnson, and the company subsequently released a statement which vaguely details its plans.
"Congrats to the Eagles on earning a trip to Super Bowl LII," writes Anheuser-Busch in a emailed statement to Fox News. "We are still planning an epic celebration, but true friends of the crown never assume victory, so in the interest of not jinxing the team, we will keep our plans under wraps until the outcome of the Super Bowl is determined.
"We look forward to delivering on our promise and sharing a few beers with our friends in Philly should the Eagles bring home the Lombardi Trophy. Fly Eagles Fly and just this once – Philly Philly."
FOLLOW US ON FACEBOOK FOR MORE FOX LIFESTYLE NEWS
A representative for Anheuser-Busch or InBev was not immediately available to share any further details, but here's hoping they plan for a safe, responsible party, lest anyone get so pumped that they accidentally slam into a pole while gleefully chasing down a subway train.