Bobby Flay keeps it real on social media
NEWYou can now listen to Fox News articles!
Bobby Flay may be one of Food Network's most familiar stars (he's been appearing on TV since the 1990s), and one of the country's most successful restaurateur's-- but that doesn't mean this household name is willing to rest on his laurels.
As an industry veteran, Flay knows that keeping up with the times means adapting to new audiences. Not only does the Iron Chef keep in touch with fans on Instagram-- he has over 660,000 followers-- but even his cat, Nacho Flay, is in on the action.
"It [social media] is an increasingly important way to connect with fans," Flay tells Fox News. "With TV, there's always that barrier but it gives people a sense of who you are in real life, once the cameras stop rolling."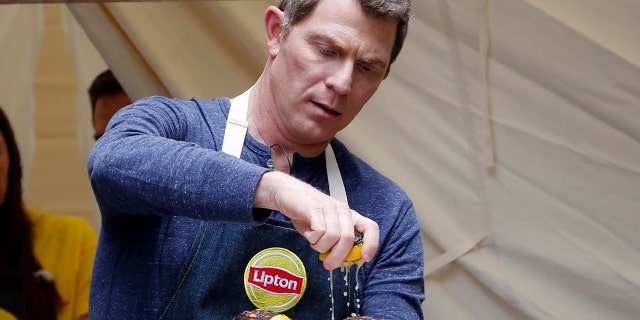 When asked if he ever responds to fans personally, the busy chef didn't skip a beat.
"I do sometimes absolutely. I think people like to know that I'm paying attention and I care about connecting with the people that like to see what I'm up to off set."
In age where one viral Yelp review can make or break a restaurant, Flay shares some of wisdom about staying relevant in the modern food industry today.
Fox News: What are some of the biggest changes you've noticed in the restaurant industry since you started your career?
Bobbly Flay: Today, we're finding more people are interested in becoming professional restaurant workers. In Europe, it's always been a real career path because they were able to make a better living. But for a long time, especially in the U.S., the restaurant business was seen as a placeholder, an in-between, for people waiting for their big break in another industry.
Now there are so many different jobs, front and back of the house, and so many different types of restaurants, the game has really changed. It's not an easy business, obviously, but it's not just about being seen as this thing you do for a few years then get out.
GORDON RAMSAY REALLY HATES THESE AMERICAN FOODS
Fox News: How has being a celebrity impacted your restaurants?
Bobby Flay: I won't kid you, there's no secret that being in the media or being on camera is going to make people much more aware that you exist. For me, it's certainly impacted [my restaurants] in a big way. It's that recognition, it's putting yourself out there, but they only come back if the food is really food, which is what I've worked my whole life to do.
Fox News: You've been on so so many shows! What's your favorite?
Bobby Flay: My current Favorite is "Beat Bobby Flay." I've been doing it for five years now and I love it because I get to cook during most of the show. I have a good time eating and tasting but the shows I truly like best are the ones where you get to me see cook and I really get going in the kitchen.
I learn a lot through that show and I get to cook things I never would have imagined I'd be cooking.
Pretty recently, I had to do a veggie burger. I had never, ever made one on my life—I never felt like I could make one that was good enough and it just wasn't something I wanted to do. But after the episode, I made one and it was so good! I was like "Wow! We got to get this there." And now it's on the menu at Bobby's Burger Palace and it's great.
Fox News: Do fans ever randomly challenge you to a "Throwdown?"
Bobby Flay: I get challenged like 10 times a day. It's pretty funny. In New York City, if I'm on the subway or just walking down the street! Just, today a woman even challenged me to take on her grilled chicken breast.
Fox News: A lot of so-called food stars today are just posting pretty recipe pictures. Do you think social media or blogs can be a gateway to the restaurant business?
Bobby Flay: I think the restaurant business and the food business can be intertwined but it really depends on the person behind the camera or the site. You want to open a restaurant? You have to really want to do it. It's no secret that it's extremely exhausting opening a new restaurant, big or small, and that's a completely different business from posting recipes or cooking just to post a dish.
For me personally, the thing I've always wanted to do is cook and I'm always most excited when I can just be in my kitchen cooking. It's the best.
Fox News: As a chef, how are you using social media?
Bobby Flay: More and more, I know it's becoming as important as any other media, especially TV. It gives you [the fans] a sense of someone you don't really know personally but you're able to get behind the scenes and see a little snippet of their real life—not everything-- but it's definitely an important way to connect so they feel like they can get to know you a little better.
Fox News: If someone wants to take their celebrity chef game to the next level, is it important to develop and maintain some type of social media presence?
Bobby Flay: I think that it's incredibly important. I know of course there are some really, really famous celebrities who don't do any type of social media at all. And that's fine, I get that. But to really connect with people, and if you want to continue to grow your fanbase, get on Instagram and show people something about yourself they wouldn't get from just watching TV or whatever.
I mean, as a chef, it's also good for like recipes and things like that.
Also, if I'm out at an event, like this Lipton Summer Camp, you can only fit so many people in one space at a time. But people are tagging me and Instagramming on the spot... dozens of people are sharing it, that gets amplified on social media, their friends see it and so on and it becomes this big digital gathering.
FOLLOW US ON FACEBOOK FOR MORE FOX LIFESTYLE NEWS
Fox News: Nacho Flay is become pretty popular, too!
Bobby Flay: He's very popular. I just literally can't control him. He just posts and posts and posts!
Fox News: Any fun summer plans?
Bobby Flay: My summer plans will be cooking at my house. It basically becomes a guest house for the summer and we have tons of guests over. I'm taking a little break from filming so I'll just be cooking at home for the most part, it's great.
Later this summer, I'm filming a new show and it's a day time show for Food Network with Damaris Phillips and it's going to be a talk show talking about food. It's not even named yet but I'm pretty excited about it!
Want the chance to dine with Flay? Lipton is holding a social media sweepstakes that runs now through September. Fans can simply snap a photo of any Lipton "Ready-to-Drink" product, tag @Lipton and use #LiptonMealSweepstakes to enter.