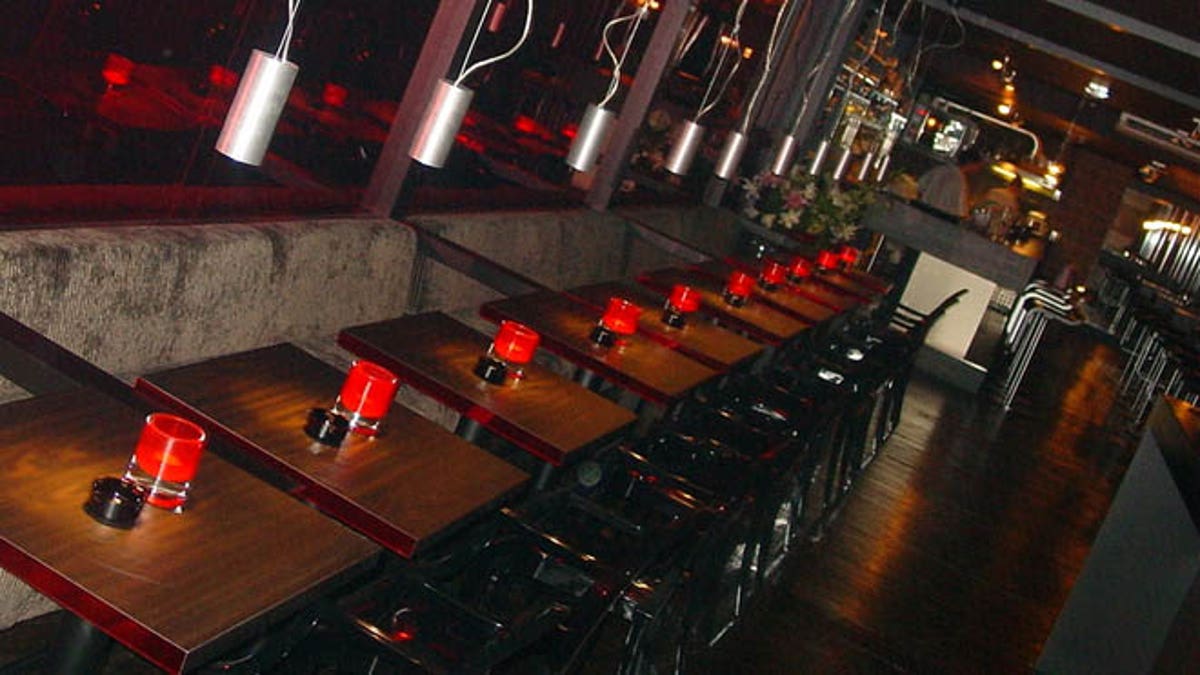 Faced with concourses filled with ubiquitous shrink-wrapped sandwiches, greasy fast-food burgers, and processed pastries, the thought of eating at an airport is rarely appetizing. But that may soon change, as airports around the world are revamping aging terminals and the world's best chefs, several of them Michelin-starred, are recognizing the value of serving exemplary meals before liftoff.
The Daily Meal's list of the 31 Best Airport Restaurants Around the World was carefully curated through a six-month-long nomination process. Globe-trotting gourmands that we are, The Daily Meal staff packed its bags, hit the road, canvassed concourses around the world, and compiled a preliminary list of more than 100 restaurants. We also consulted food and travel experts like Nikos Loukas of InflightFeed and other trusted sources and added their recommendations to those of The Daily Meal's editors, who have traveled and dined extensively around the world.
Restaurants were judged in two categories: cuisine and style/décor/service. From innovative menu options to plating and presentation to freshness, quality, and taste, The Daily Meal evaluated each restaurant's cuisine and only included the restaurants that were deemed to be extraordinary. For the second category, panelists evaluated the dining experience, from the restaurant's interior and dining room ambiance to the service, voting for the restaurants that offer an unrivaled experience. Each restaurant had the chance to be voted on twice. Finally, the percentage scores from each category were averaged to arrive at the final ranking.
From Miami to Munich and Seattle to Singapore, there are dozens of outstanding airport restaurants, many a destination in their own right. From the Full Monty Breakfast (two free-range sausages, crispy smoked bacon, crispy black pudding, "Burford Brown" eggs, potatoes and sticky onions, roast tomatoes, field mushrooms, and organic baked beans) at Jamie Oliver's Union Jacks Bar at the U.K.'s Gatwick Airport to the seasonally changing prix fixe menu at Michelin-starred chefs Gilles Dupont and Thomas Byrne's Altitude at Genève Aéroport in Geneva, dining at the 31 Best Airport Restaurants Around the World is likely to make you wonder why you ever settled for a lackluster lunch during your last layover.
"When you're flying, you want something healthy and light," said Iron Chef Cat Cora, whose Cat Cora's Kitchen, located in three restaurants around the country, serves healthy fare made from sustainable, organic, and locally sourced ingredients. The grilled avocado Cobb salad and baked jalapeño poppers stuffed with feta cheese and breaded in panko breadcrumbs are enticing enough to make our list and make travelers think twice about eating plane food, unless, of course, you are referring to Gordon Ramsay's Plane Food at Heathrow Airport in London, which also made the list.
Whether you're in the airport for a few minutes or a few hours, make sure you packed your appetite.
Tadnda Anadolu (Istanbul Atatürk Airport)
Featuring Anatolian cuisine, Tadnda Anadolu is a self-service restaurant, located next to Gate 109 of the domestic terminal, run by BTA Catering, which operates dozens of airport restaurants in Greece, Macedonia, Tunisia, and Turkey. Travelers can get a quick, traditional Turkish meal to go and pick up some Turkish souvenirs, such as natural products like honey, jam, and olive oil, at the same time.
Dutch Kitchen Bar & Cocktails (Amsterdam Airport Schiphol)
Dutch Kitchen Bar & Cocktails, located between Terminals 2 and 3 in the airport's Holland Boulevard, definitely lives up to its motto: Making the Traveler's Day Better. Soak up the Dutch experience by sitting in large teacup chairs or relax at the communal "Mad Tea Party" dining table. You'll enjoy organic and locally produced Dutch cuisine, including kroketten (croquettes on farmhouse bread), poffertjes (traditional Dutch pancakes), and organic burgers using Koningshoeve beef from Spaarnwoude. The bar was designed with Lucas Bols B.V., the oldest distilled spirit brand in the world, and its drinks are impressive, too, focusing on taste, smell, and image. Order the Amsterdammertje, which is made with Bols Jonge Jenever (young Dutch Genever), Bols Peach, cranberry juice, and lemon juice.
Anthony's Fish Bar (Seattle Tacoma International Airport)
Founded by Budd Gouldin Bellevue, Wash., in 1969, Anthony's Restaurants now includes 22 locations throughout the Pacific Northwest. While each restaurant features a different concept — from waterside seafood restaurants to fish and chip bars, all are focused on presenting fresh, local seafood. Located in the Central Terminal, Anthony's Fish Bar serves Puget Sound oysters on the half shell and wild Alaskan king salmon. For dessert, order the signature wild mountain blackberry cobbler.
One Flew South (Hartsfield-Jackson Atlanta International Airport)
This restaurant, located in Terminal E, dubs its travel-inspired cuisine "Southernational." A Georgia forest photo-mural serves as the backdrop in the dining room, which features an 18-foot marble-backed bar and a 30-foot pine and Cherokee marble sushi bar. The name One Flew South http://www.oneflewsouthatl.com/ is emblazoned in Japanese on the backs of menus that list the exceptional Japanese fare created by sushi chef Allen Suh and the modernized globetrotting dishes of executive chef Duane Nutter. "Salute to Aeromarine," the cocktail list inspired by Aeromarine Airways, which carried wealthy passengers from Miami to Nassau and Havana aboard Floatplanes ("flying boats") so that they could drink legally during the Prohibition era, has signature drinks like Taylor Made, a concoction of Hendricks gin, elderflower liqueur, cucumber, and lime.
Altitude (Genève Aéroport, Geneva)
Michelin-starred chefs Gilles Dupont and Thomas Byrne's concept restaurant, Altitude, is located on the third floor of Genève Aéroport's public area. Chef Fabien Legon's seasonal menu includes two- and three-course set menus and an à la carte menu with starters like ricotta and mushroom gnocchi with Datterino tomato and Parmesan lace, mains like golden Saint-Jacques scallops in a light potato cream with salted butter and a truffle and leek gratin, and duck breast and roasted foie gras with hibiscus flower, black pepper, rissoles' stew thighs, and chestnuts. Save room for desserts like chocolate mille-feuille with orange confit, orange sorbet, and a light saffron syrup. Brunch is served on Sundays from 11 a.m. to 3 p.m. from September until May.
Cat Cora's Kitchen (San Francisco International Airport)
Iron Chef Cat Cora has expanded her culinary pursuits to the concourse by opening Cat Cora's Kitchen in Terminal 2 at San Francisco International Airport, in Terminal E at George Bush Intercontinental Airport in Houston and in Concourse B at Salt Lake City International Airport. With a focus on using organic and fresh ingredients, the restaurant, cocktail, and tapas lounge serves a variety of health-conscious fare. Cat Cora suggests travelers try the grilled avocado Cobb salad and the baked jalapeño poppers stuffed with creamy feta cheese and breaded with panko breadcrumbs.
La Moraga (Málaga-Costa del Sol Airport, Costa del Sol, Spain)
This reasonably priced gastropub in Terminal 3 serves classic Andalusian tapas crafted by chef Dani García, a friend of legendary Spanish chef Ferran Adrià. La Moraga is García's casual restaurant (his flagship two-Michelin-starred Calima is in Marbella, Spain), where he serves small plates including an oxtail burger, cherry gazpacho, and pringá (meat) croquettes.
Kim Choo's Nonja Kitchen (Changi Airport Singapore)
Lee Kim Choo first learned her grandmother's masterful Nonya dumpling recipe in 1946 when she was 12 years old. The family sold the triangular, bamboo-leaf dumplings packed with meat and sticky rice every year at the annual summertime Dragon Boat Festival. The tradition later turned into a dumpling business, Kim Choo's Nonya Kitchen, which started with a stall Lee set up under a tree in front of her house and has since expanded to four locations, including one in Terminal 3 of Changi Airport in Singapore. Aside from the portable dumplings, spicy chicken curry, satay, otak (meat cakes), ikan asam manis (a fish head dish), sambal petai (a spicy vegetable dish), and Nonya kuehs (sweet, colorful cakes) are also served.
Union Jacks Bar (Gatwick Airport, London)
Celebrity chef Jaime Oliver's Union Jacks Bar features an all-British menu with top-sellers from Jamie's Italian and Union Jacks, plus new items like breakfast and British tapas. Located after security in the North Terminal Departure Lounge, the menu includes pan-cooked breakfast Naked Chef-style, like The Full Monty (two free-range sausages, crispy smoked bacon, crispy black pudding, "Burford Brown" eggs, potatoes and sticky onions, roast tomatoes, field mushrooms, and organic baked beans) and Jamie's Italian Burger (a British chuck and flank steak with fontina, mortadella, sticky balsamic onions, tomato, pickles, and chiles).
Piquillo (John F. Kennedy International Airport, New York City)
During a layover or before your flight, tuck into tapas at Piquillo, the first-ever Spanish tapas restaurant in an American airport. Located in Terminal 5, chef Alexandra Raij's tapas restaurant serves small, shareable plates including hot and cold tapas like buñuelos de bacalao (fried salt cod fritters), gambas en gabardina (battered fried shrimp), alcachofas con jamón (artichokes with serrano ham and sweet peas), and huevos rellenos de anchoas (anchovy-stuffed deviled eggs).
Tagliare (LaGuardia Airport, New York City)
While you're in the Big Apple, check out Tagliare, a New York-style pizzeria, located in Terminal D by gates 1 and 2 (in the same terminal at Crust, which serves Italian-style pizza and is #6 on The Daily Meal's 31 Best Airports Around the World). Run by Domenick DeMarco, whose family is behind Brooklyn's famed Di Fara Pizza (ranked number one on The Daily Meal's 35 Best Pizzas in America 2012), Tagliare includes breakfast stromboli (thin pizza crust turnovers stuffed with sausage, egg, and cheese or egg, onions, peppers, ham, and cheese). Pizzas are available by the slice or by the whole pie at lunch and dinner. Check out pizza combinations like sun-dried tomato, black olive, and mushroom; pepperoni, garlic, and black olive; and baby artichoke, sausage, and mushroom. A second location can be found in Concourse G at Minneapolis-St. Paul International Airport).
Brasserie Flo (Paris Charles de Gaulle Airport)
Modeled after the original Parisian brasserie in Paris' 10th arrondissement, Brasserie Flo, located in Terminal 2F, offers a variety of meals, from full breakfasts (served from 7:30 a.m. to 10:30 a.m. daily) to traditional lunch and dinners. Popular dishes include steak tartare, a Mediterranean prawn salad plate with pickled vegetables and sesame, and profiteroles with Valrhona Grand Cru chocolate, all of which can be paired with a selection of Alsatian wines. In a hurry? Order off the express menu, which means you'll be served within 30 minutes.
Pink's Hot Dogs (Los Angeles International Airport)
Paul and Betty Pink started Pink's hot dog stand in November, 1939 after seeing an advertisement for a $50 hot dog cart, which they purchased and set up on the northwest corner of La Brea Avenue and Melrose Avenue in Hollywood. When the price of rent was raised to $25, the Pinks opened their iconic hot dog shop which now serves about 2,000 hot dogs each day. Pinks opened at LAX Bradley International Terminal in July 2010, giving time-strapped travelers a taste of Hollywood near the tarmac. Of the 35 hot dogs and 12 hamburgers on the menu, Pink's signature hot dog is the chili cheese dog, which is topped with secret-recipe chili. Whether you order the guacamole dog, the Chicago Polish dog, or the bacon burrito dog, there's no denying Pink's hot dogs are something special.
Legal Sea Foods (Boston Logan International Airport)
The first Legal Sea Foods started as a fish market in 1950 under the ownership of George Berkowitz in the Inman Square neighborhood of Cambridge, Mass. Berkowitz was inspired by his father Harry's Legal Cash Market, an adjacent grocery store which also likely inspired the current motto of the restaurant, "If it isn't fresh, it isn't Legal!" Legal Sea Foods' first restaurant opened next to the fish market in 1968. Berkowitz's son Roger took over the business in 1992 and opened a location in Terminal C at Logan International Airport. Legal Sea Foods now has four restaurant locations within the terminals of Logan International (terminals A, B, and C). Want to dine like a U.S. President? Order a customer favorite — a bowl of Legal Sea Food's New England clam chowder, which has been served at every presidential inauguration since 1981.
Custom Burgers by Pat LaFrieda (LaGuardia Airport, New York City)
Located in the food court in Terminal D, Custom Burgers by Pat LaFrieda serves hamburgers made from a special blend by the fourth generation of the LaFrieda family, who make 75,000 hamburgers a day in their 36,000-square-foot facility in North Bergen, N.J. Their original hamburger blend is made using a 90-year-old recipe and includes a combination of American Black Angus beef chuck, brisket, and short rib. The restaurant's most popular menu items include a Goodfellas double burger with Italian peppers, smoked mozzarella, mushrooms, and onions, and the Fat Cat, a double burger with bacon, and egg, and each burger is cooked to order. For the perfect sides, order a fresh-made thick milkshake and french fries.
Five Guys (Dulluys, located in Concourse A and Concourse B, isn't just another burger chain. Made-to-order hamburgers and cheeseburgers served with copious amounts of fresh cut french fries are the special here. Add on as many toppings as you want, including barbecue sauce, jalapeños, hot sauce, onions, mushrooms, and more. President Obama orders his cheeseburger with lettuce, tomato, jalapeños, and mustard.
See all 31 of the best airport restaurants around the world here
More from The Daily Meal
101 Best Food Trucks in America

14 Heartbreak Holidays for Newly Single Celebrities

U.S. Presidents' Favorite Vacation Spots

27 Iconic Street Foods Every World Traveler Must Try