'Collegiate Day of Prayer' aims for a 'spiritual awakening on college campuses'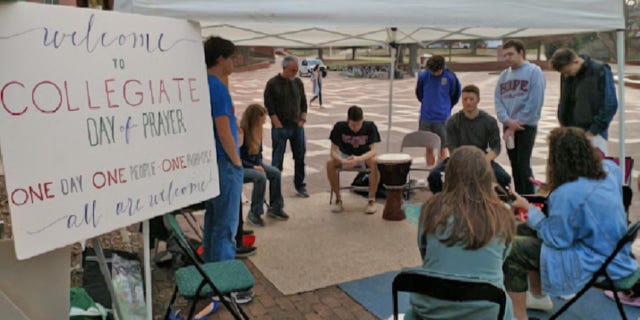 In colleges throughout the country, from California to Texas to Florida, today is the day of prayer.
The last Thursday in February is the Collegiate Day of Prayer (CDOP), a little known day of prayer for college students that dates all the way back to the 1800s.
By 1823, every major denomination paused for a day of prayer for the next generation of leaders on college campuses, and 10 years ago a coalition of ministries -- Cru, Youth With a Mission, InterVarsity, Passion Conferences, and many more -- revived the cause as part of CDOP.
'THE SEND' MARKS START OF 'GREATEST JESUS MOVEMENT,' OVER 40,000 CHRISTIANS GATHER, COMMIT TO MISSIONS
"Collegiate Day of Prayer exists to call America to pray for revival and spiritual awakening on college campuses," Thai Lam, CDOP facilitator and the national director for Luke18 Project, told Fox News.
AT PASSION 2019, STUDENTS RAISE $400G TO TRANSLATE BIBLE FOR DEAF PEOPLE ACROSS WORLD
"Our goal is to mobilize the Body of Christ to adopt every campus in America for a united, multi-generational day of prayer on the last Thursday of February," said Lam, who is also part of the leadership team at International House of Prayer in Kansas City. "Our hope is that Christians across our nation would not just adopt a campus for a day but commit to praying for the college campus in their area all year long."
This year, they expect over 100,000 people to participate in more than 3,000 gatherings across the country.
CONTEMPORARY CHRISTIAN ARTISTS SEE 'THIRD GREAT AWAKENING' COMING
"I am participating in CDOP because I know God is willing and able to transform my campus and our nation for the better," Parker Colbath, a student at North Carolina State University, said. "Our hope is that through prayer, the broken would be healed, the poor would be helped, the depressed would have joy, and the people of our nation would know how much they are loved by God. Big things happen when we pray!"
Some people gather on campuses, some in churches, some in living rooms. Each one can range from a few people to a group of 30 or 50, but the largest gathering is likely going to be at the University of Missouri-Kansas City (UMKC), where Dr. Ronnie Floyd, the president of the National Day of Prayer, will be joined by Passion and others in an event that will be live-streamed for others to join in.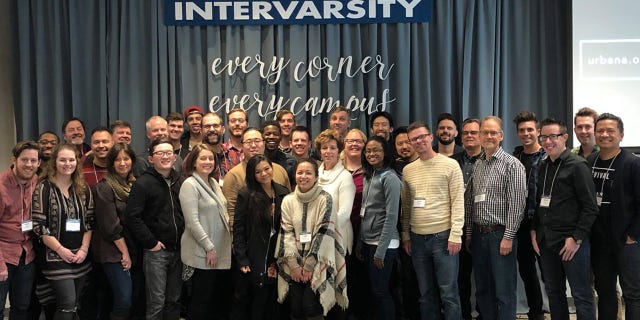 Floyd, who is also the senior pastor of Cross Church, called it a tremendous opportunity to reach out and pray for the 22 million college students across the nation.
CLICK HERE TO GET THE FOX NEWS APP
"I'm excited to pray and worship with other believers and ministries!" Ryan Kuhl, a student participating at UMKC, told Fox News. "I believe we can only go so far alone both in our campus ministries and in our personal lives. It is our inheritance as believers in Jesus to experience the full measure of the love of God in community. My hope is that out of this event, there would be a new normal on college campuses where ministries and believers would truly be one."
It's not just students but faculty and administrators will be joining as well.
"Wherever I work, I want to see God establish His kingdom, and I believe this will only happen in the context of a praying community. He loves to answer when His people humble themselves and cry out to Him in prayer, both individually and corporately. CDOP is a corporate expression of this cry," said Anna Riffe, a UKMC adjunct professor.
HOLLYWOOD WORSHIP BAND THAT STARTED IN A NIGHTCLUB: 'WORSHIP CAN BE FUN, TOO'
The ministries have a goal of reaching almost 5,000 campuses by the end of the day. So far, they've adopted 3,047 campuses, but Lam believes they may reach their goal.
LA PASTOR SHARES BATTLE WITH ANXIETY, CANCER AND HIS MISSION TO FIND 'INNER PEACE'
"We're living in an exciting time in history," Niko Peele, CDOP Leadership Team, said on their goal to "shift the tide of history" Thursday on campuses nationwide.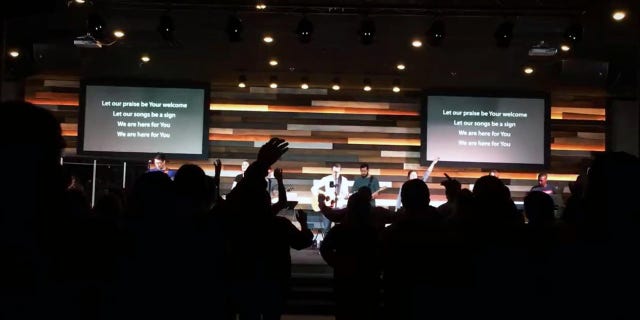 Luke Heaton, a student at Texas A&M University, agreed, adding that there is power in prayer.
2-YEAR-OLD'S 'MIRACLE' HEALING SPARKED WORSHIP ANTHEM: 'WE BELIEVE IN THE POWER OF PRAISE'
"It excites me to know I can be a part of something so unique and so powerful," Heaton said. "I'll be praying for God to continue to transform hearts and minds on college campuses as I ask him to do the same in my life every day. Days like these produce fruit, even if we don't see it immediately."