Translating the Bible is saving languages from extinction
With one-third of the world's 7,000-plus languages endangered -- most oral-only or without an alphabet -- a Bible translation group is helping to save lost and dying languages.
Wycliffe Bible Translators, partnering with SIL International, a Christian non-profit, has helped create written alphabets for more than 1,400 languages. For more than 70 years, the Orlando, Fla.-based nonprofit has helped people all over the world get God's Word in their own language, in many cases helping to preserve native languages.
MILLENNIALS CREATE A BIBLE FOR THE INSTAGRAM GENERATION: 'WE...ARE USING IMAGERY IN A MUCH MORE MODERN WAY'
"At Wycliffe USA, our primary focus is on making sure everyone around the globe can hear about Jesus in a language they can understand at the heart level," Andy Keener, Wycliffe executive vice president for global partnerships, told Fox News. "When someone who speaks a minority language that has no Scripture seeks to engage with God, they're forced to do so in a language that is not their mother tongue."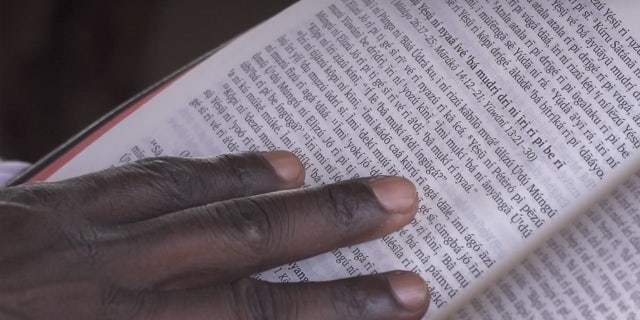 He added: "Often as Bible stories are translated, then whole books of the Bible, and eventually the New Testament and Old Testament, their language begins to flourish. These translations, along with the language and literacy work that often accompany them, open up a whole new arena for endangered languages where they can be integrated into formal education and preserved."
AT PASSION 2019, STUDENTS RAISE $400G TO TRANSLATE BIBLE FOR DEAF PEOPLE ACROSS WORLD
Keener explains the Teribe people of Panama are a good example of how this works.
"Over the last 50 years, when Teribe children have gone to school, there's been a real push for the children to learn Spanish," he said. "Some parents would actually try not to speak their minority language with their children."
'THE SEND' MARKS START OF 'GREATEST JESUS MOVEMENT,' OVER 40,000 CHRISTIANS GATHER, COMMIT TO MISSIONS
But after Wycliffe partnered with the Teribe people, things changed.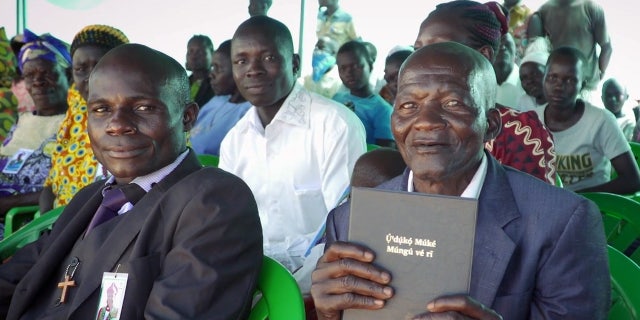 "Once the Teribe received Scriptures in their language, they were able to engage with God through their mother tongue for the first time. Since Bible translation was introduced to their community, primary school is now available in their minority language. The Panamanian government is developing programs to teach history, math and other subjects in the Teribe language. It's giving new life to this language that otherwise may have gone away."
JUSTIN BIEBER'S PASTOR IS BRINGING CHURCH TO 'THE PALM OF YOUR HAND'
The Keliko community, refugees from South Sudan who are now in Uganda, recently celebrated their New Testament translation as Wycliff's 1,000th translation.
400-YEAR-OLD PILGRIMS BIBLE STOLEN FROM US AS PART OF $8M HEIST RETURNS HOME: FBI
"When you translate in our mother language, people can understand the Word of God very clearly," Enos Dada, a Keliko translator told Wycliffe. "Even someone who didn't go to school, you can read the text to her or him, and they can say, 'True, God is speaking to us in our language.'"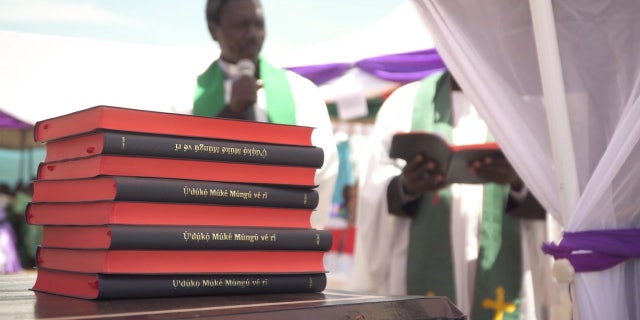 The Keliko people faced civil war and displacement in the middle of trying to get the Bible translation.
'WE LOVE YOU AND WE FORGIVE YOU:' SRI LANKA PASTOR HAS POWERFUL MESSAGE FOR RADICAL TERRORISTS
"Because of the grace of God and His mercy on us, He's able to save us for the purpose of the translation," Bishop Seme Nigo, Keliko translator, said.
They say God's Word in their own language has given them hope and a greater connection to their Keliko identity.
"It is not just an ordinary book. Some people call it the 'Holy Bible.' Sometimes people call it, 'Good News,' and it really is good news because it will continue to bring more people to God in my community," Isaac Kenyi, a Keliko translator, said. "This project is really changing the lives of the people."
CLICK HERE TO GET THE FOX NEWS APP
At least 2,000 languages are still without Bible translations, something Wycliffe hopes to accomplish by 2025.