'Young Sheldon' premiere recap: A mother's love steals the show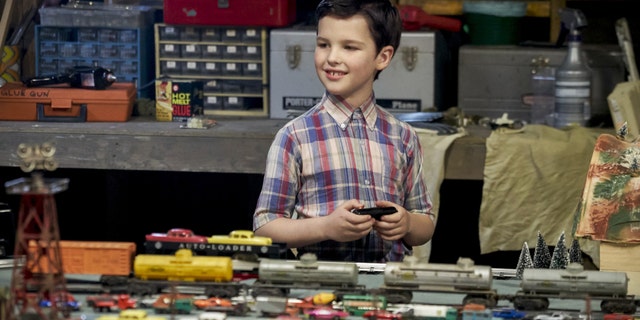 After years of captivating fans in the modern day on "The Big Bang Theory," the prequel series dedicated entirely to Sheldon Cooper, "Young Sheldon," premiered with both laughs and a touch of heart.
The premise of the first episode was simple, 9-year-old Sheldon Cooper is about to begin his very first day at high school. Being an incredibly gifted young mind, he's skipped many grades, much to the joy of his twin sister, Missy, and to the chagrin of his older brother, George Jr., who is forced to start high school with his annoying little brother.
While Sheldon seems optimistic about his grade jump, his family is painfully aware that he's got a deeply misguided view of what's ahead for him.
"You're going to get your a-- kicked in high school," Missy tells him.
"I'm not going to be assaulted. High school is a haven for higher-learning," he responds.
Chief among those nervous about Sheldon's move is his father, George Sr., who is a football coach at the school. He even goes as far as to steal Sheldon's bowtie the day before his first day in the hopes of discouraging him from not fitting in from the get-go. Luckily for our protagonist, he's managed to navigate his first nine years thanks to the unabashed love of his mother, Mary Cooper.
She tells off a woman in church for mocking her boy when he speaks during a sermon, mediates arguments between Sheldon and the rest of the family and tries her best to get him to worry less about school and more about playing on his last day of summer. That night, Missy and Sheldon overhear their parents discussing financial troubles. When Sheldon asks his mom point blank if they're having money difficulties, she tells him not to worry. He genuinely doesn't believe that his mom would lie to him just to spare his feelings.
"Sure she believes the Earth was made in six days, but that's because she's gullible, not a liar," he says.
Still, her ability to lie to spare his feelings comes in handy during the first day of school, when she not only finds him his bow tie, but successfully convinces him to not wear it by bribing him with a trip to Radio Shack.
Once inside, she starts to cry, but tells him it's only allergies. With that, Sheldon finds himself all alone in the big bad world of high school - exposed tattoos on students and all. However, he's undeterred, and even makes the mistake of calling out his fellow classmates for violations to the school handbook and dress code. It's when he comments on his teacher's mustache that things go south.
The teachers find themselves complaining to the principal about Sheldon, but the cavalcade of complaints is no match for the mama bear love of Mary. Unable to homeschool him or afford private schooling, she tells everyone to get over it. This includes her husband and oldest son, who are having trouble adjusting to life at their new school.
It's not until George Sr. reveals to Sheldon that the only reason they moved to a new town was because he was fired from his old job for telling on other coaches that he gains some perspective. When he saw other coaches recruiting players from different high schools, he lost his job when he told. The moral of the story - don't rat people out.
With at least part of his family learning to adjust to the change, the episode ends on a small victory for young Sheldon, as his mother fulfills her promise and takes him to Radio Shack.
"In a world filled with uncertainty… this place will be here forever," he says, highlighting the fact that he's got a lot to learn between now and episode one of "The Big Bang Theory."