Will they make it official? Kourtney Kardashian and Scott Disick visit wedding planner, source says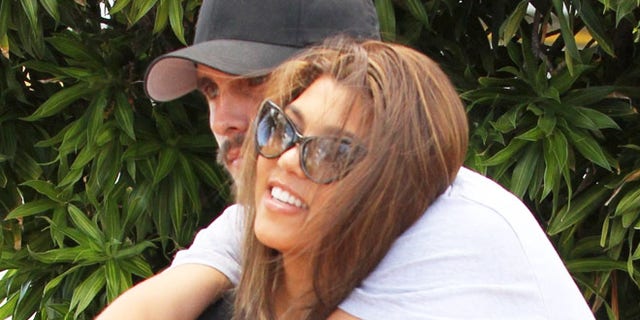 Kim Kardashian may be the wedding crazed one in the Kardashian clan, but her sister Kourtney may have finally gotten bitten by the bride bug herself.
The mom of two, including new baby girl Penelope, has been dating her boyfriend Scott Disick for five years, yet has steadfastly refused to tie the knot with her baby daddy, saying repeatedly on "Keeping Up With the Kardashians" that she didn't care about marriage.
Until now. A source close to the couple tells FOX411 Kourtney has taken the first step to getting a ring on that finger.
[pullquote]
"About a month ago they visited celebrity wedding planner Sharon Sacks together just to discuss some ideas," the source said. "Nothing was set in stone, but Kourtney is definitely exploring the idea, which is a huge step for her."
"Kourtney will likely be very low key when it comes to her wedding, don't be surprised if it's not even on TV," says the source. That's Kim's style, not hers."
Lately, Kourtney and Scott have been on the defense about their very public relationship, with Scott often being portrayed on the show as a partying bad boy who is usually absent from his children's lives.
But that's not really the case, the source said, calling the two inseparable when they are not working on individual projects.
"They are very in love and know they're going to be together for a very long time," says a source who is friends with the twosome. "They consider themselves family, and now [Kourtney's mom] Kris loves Scott like he is a son."
Sacks has worked with the family before, planning Kim's now infamous 72-day wedding to New Jersey Net Kris Humphries, which ended in divorce. Sacks had called it "the wedding of the century," because she had 30,000 roses flown in for the affair, and Kim wore four pairs of custom made Louboutin shoes.
Sacks also came through with a lavish purple and white themed wedding for Kardashian sister Khloe, who announced she would marry Lamar Odom just nine days after they became engaged in 2009.
The famous wedding guru is the go-to event planner in Hollywood. She also put together the top secret nuptials of Jennifer Lopez and Marc Anthony, along with Vanessa Minillo and Nick Lachey's destination wedding on Necker Island.