Weinstein allegedly paid 'army' of investigators, ex-Mossad agents to keep actresses, journalists from revealing predatory behavior
Journalist Ronan Farrow, who wrote the initial exposé on now-disgraced Hollywood mogul Harvey Weinstein for The New Yorker, has published a new piece with some shocking allegations. According to his report, Weinstein spent more than a year using private investigators to track actresses and journalists in an effort to stop his predatory behavior from going public.
The New Yorker article alleges that Weinstein hired firms like Black Cube, which is largely made up of former officers from Mossad and other Israeli intelligence agencies, to look into women who could potentially go on the record about his sexual harassment and assault -- and to look into journalists working on similar stories, including Farrow himself.
The goal: to "target" and suppress anyone who might come forward to ruin Weinstein's reputation, according to the report.
A representative for Weinstein denied to the outlet that anyone was targeted or suppressed at any time. Reps for Weinstein did not respond to Fox News when reached for comment.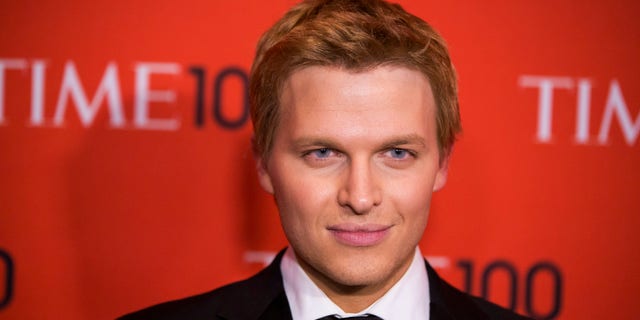 Two private investigators from Black Cube reportedly got information from actress Rose McGowan, who has been an outspoken critic of Weinstein and has publicly accused him of rape since exposés from The New York Times and The New Yorker were published in which many women came forward to tell their respective stories about Weinstein's predatory nature.
In addition, Farrow's new report revealed that Dylan Howard, the chief content officer of American Media Inc., which publishes the National Enquirer among other magazines, offered to share material a reporter had dug up which could have disproven McGowan's rape allegations. He later reportedly told Weinstein, "I have something AMAZING," referring to audio from an off-the-record phone call between the reporter and Elizabeth Avellan, the ex-wife of director Robert Rodriguez, who had a relationship with McGowan.
Avellan told The New Yorker she never would have approved of trying to discredit McGowan. "I don't want to shame people."
Howard responded to the magazine by saying his work for Weinstein was separate from his work as a journalist. "I always separated those two roles carefully and completely—and resisted Mr. Weinstein's repeated efforts to have AMI titles publish favorable stories about him or negative articles about his accusers." He also said AMI had a now-terminated TV production agreement with Weinstein.
American Media Inc. did not immediately respond to Fox News' request for comment.
McGowan also reportedly was approached by an operative using a false name and credentials to talk with her about women's rights issues in the workplace. In reality, she wanted to know if McGowan had spoken with any journalists and whether the actress would go on the record about her experience with Weinstein, according to the report. Not realizing that she was speaking to an operative, the "Scream" star reportedly met with the woman, and another operative who approached her at a later date, many times.
The story revealed that countless documents and audio recordings were provided to the 65-year-old studio head with information not only on actresses he allegedly assaulted, but journalists as well. The outlet cites seven people directly involved with the effort as well as "dozens of pages" of documents it unearthed as its sources for the new allegations against Weinstein.
Psychological profiles allegedly were created including information of past relationships, sexual histories and evidence of positive encounters between Weinstein and his potential accusers that could later be used to discredit the women if they came forward, which many did.
Also named in the story is Weinstein's lawyer, David Boies, who admitted to working with Weinstein and these agencies to stop the New York Times story from being published, despite his law firm representing the Times in a libel case at the time. In October 2016, he allegedly wired Black Cube the first hundred thousand dollars of an alleged $600,000 invoice. It's unclear how much of that total invoice was paid, but bonuses reportedly were offered if the company could stop any article from being published.
"Although he vigorously denies using physical force, Mr. Weinstein has himself recognized that his contact with women was indefensible and incredibly hurtful," Boies told Farrow. "In retrospect, I knew enough in 2015 that I believe I should have been on notice of a problem, and done something about it. I don't know what, if anything, happened after 2015, but to the extent it did, I think I have some responsibility. I also think that if people had taken action earlier it would have been better for Mr. Weinstein."
In a statement to Fox News, Boies, who previously argued for marriage equality at the Supreme Court and represented Al Gore in the disputed 2000 election, noted that he told Weinstein that neither he nor his firm would represent him against potential allegations of rape. He also made sure to warn him that he likely couldn't stop The New York Times story through "threats or influence." However, he believed at the time that Mr. Weinstein was merely trying to take proactive steps to prove his innocence on the matter of a rape allegation.
"While I told Mr. Weinstein that I was not in a position to represent him on these issues, his request to contract with investigators seemed at the time, like a reasonable accommodation for a longtime client," Boies told Fox News. "I regret having done this. It was a mistake to contract with, and pay on behalf of a client, investigators who we did not select and did not control. It was not thought through, and that was my mistake. I take responsibility for that."
After a fan told McGowan that the latest New Yorker piece should be made into a film, the actress responded: "I do not need to do a film. I am the film."