Washington jury rejects claim of actress who sued IMDb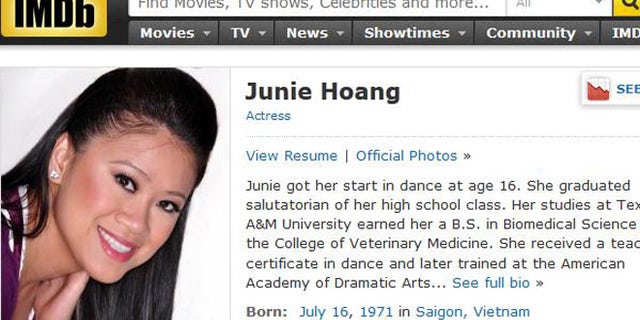 SEATTLE – A federal jury in Seattle on Thursday rejected a claim brought by a little-known actress who first lied about how old she was on the popular Internet Movie Database, then sued the company when it published her true age.
Huong Hoang goes by the stage name Junie Hoang and has appeared in such films as "Gingerdead Man 3: Saturday Night Cleaver" and "Hoodrats 2: Hoodrat Warriors."
Her lawsuit generated a lot of media attention when she filed it -- anonymously, at first -- in 2011. She said she intended for her case to highlight online privacy as well as age discrimination in Hollywood, and she initially sought $1 million in damages.
"My hope was that it would make a change in the database," Hoang told The Associated Press after the verdict. "I knew it was a problem not just for me but for anyone else who had their age on their profile."
The 41-year-old claimed offers for roles dried up after the popular online movie database mined her account information to learn her true age, then posted it on her profile in 2008. She sued for breach of contract, and the case went to trial this week. The judge dismissed IMDb's parent company, Amazon.com, as a defendant before the trial.
IMDb argued that it has a First Amendment right to publish accurate information. It also said Hoang couldn't prove she lost any money or roles because of it, and even if she could, she couldn't prove it was IMDb's fault.
"Hoang did not present any testimony, documents, or other evidence supporting her damages allegations of lost income and profits," the company's lawyers wrote in a court filing at the end of the trial.
IMDb.com is an searchable database that includes more than 2 million pages for movies, television and entertainment programs, as well as 4 million cast and crew members.
Hoang signed up for a subscription service with the website called IMDb Pro. The service is designed for entertainment industry professionals. It provides contact information and other details for the actors, actresses, directors and others listed.
She said she initially listed a false birth year -- 1978, instead of 1971 -- because she usually plays characters younger than she is.
But eventually, she moved from her hometown of Houston, Texas, to the more competitive entertainment market of Los Angeles, and as what would have been her fake 30th birthday approached, she decided she didn't want any age listed on her profile.
IMDb refused to remove the age listed unless she could provide evidence that it was incorrect. She asked the company to check its records to see if it had any information that would substantiate that age.
The company did so -- using her account information to find her real name, and then using her real name to conduct a public records search and discover her true age. IMDb posted her real age on her profile, over her objections.
She claimed that the company breached its contract with her by misusing the account information she provided in violation of its privacy policy. The company disagreed, noting that the privacy policy stated that it maintained its customers' information "for such purposes as responding to your requests."
Hoang said she plans to keep acting.
She played Sandy in "Gingerdead Man 3," a sequel to a 2005 Gary Busey movie in which "an evil yet adorable gingerbread man comes to life with the soul of a convicted killer," according to a description on IMDb.
Other credits include a part as a triage nurse in the television series "I Didn't Know I Was Pregnant," and as the part of Janet in "My Big Phat Hip Hop Family."