UFC fighter 'Wonderboy' sends a message to Conor McGregor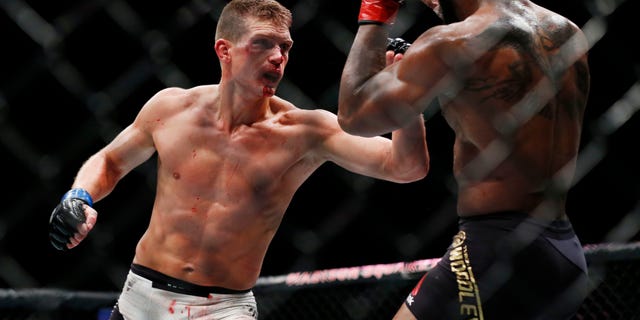 Following a hard-fought battle against welterweight king Tyron Woodley at UFC 205, Stephen "Wonderboy" Thompson left New York without a title but he also didn't leave with a loss on his record.
Ultimately, Thompson and Woodley fought to a majority draw with UFC president Dana White saying after the event that the two welterweights would likely rematch in the near future to settle the score once and for all.
Of course, featherweight champion Conor McGregor also had something to say about that after he also took home the lightweight title at UFC 205 while hinting that he might want to pursue a third belt at 170 pounds at some point in the future.
Thompson likes McGregor's attitude to go after what's never been done before, but he has a message for the current two-division champion if he has any serious ideas about going to welterweight to try and add a third UFC belt to his collection.
"He's definitely going to have to wait. Let's settle this score first before he even talks about going to 170," Thompson told the Fight Society podcast this week when talking about McGregor.
While it's hard to discount McGregor's desire to potentially fight for a third title in the UFC considering what he's already done, Thompson cautions the outspoken Irishman to look before he leaps into a dangerously deep division with fighters who are going to be a lot bigger and a lot stronger than him.
Thompson would be a full three inches taller than McGregor if they ever fought and the top ranked welterweight contender doesn't like his chances throwing hands with someone as powerful as Woodley either.
"To be honest with you, Conor McGregor at 170, I think he's just going to be thrown around like a little rag doll," Thompson said. The weight class is just so much bigger. I didn't expect Tyron to be as strong as he was. He's a thick dude, short but think and very strong opponent.
"If that ever did happen, he's going to have his hands full with Tyron, let me tell you that."
If Thompson could beat Woodley in their proposed rematch, he would have no problem dishing out the same exact medicine to McGregor if he wanted to test the waters at 170 pounds.
Thompson does admit, however, the paycheck to fight McGregor would be nice but at the same time there's not a lot of upside outside of the money to beat up a legit 155-pound fighter.
"Are you kidding? Heck yeah. Anybody who fights McGregor is going to have a good payday. He's one of the best guys in the UFC. He's got two belts. You're out there to fight the best guys, but it is kind of a lose-lose situation," Thompson explained. "You go out there and you defeat Conor and everybody will be like 'you should have beat him.' What did you think was going to happen?
"But if you lose? So it's a lose-lose situation to go out there and fight somebody like that."
Regardless of McGregor's ambitions to potentially add a third belt to his resume, Thompson reminds him that he's going to have to wait in line for now because he wants his second shot at Woodley and then it's up to the UFC what comes next.
"Let's get this score settled first and then he can start talking about that," Thompson said.
Hear from Thompson as well as UFC Fight Night main event competitor Derek Brunson as he previews his bout with Robert Whittaker on the latest episode of The Fight Society podcast.
This article originally appeared on FoxSports.com.