Tommy Lee's fiancee, Brittany Furlan, slams Pamela Anderson's claims she enabled Lee's drinking
Tommy Lee's fiancée, Brittany Furlan, is pushing back after Lee's ex-wife Pamela Anderson sounded off on Furlan.
Anderson claimed on Thursday that Lee's new gal has been enabling the rocker's drinking habit. But in a new Twitter rant, Furlan fought back at her man's famous ex.
"I'm a REALLY nice person," Furlan tweeted Monday.
The feud started after the Mötley Crüe drummer, 55, and his 21-year-old son, Brandon, with Anderson, got into a physical fight at Lee's Calabasas, Calif., home.
MORE: TOMMY LEE, 55, AND BRITTANY FURLAN, 31, ANNOUNCE ENGAGEMENT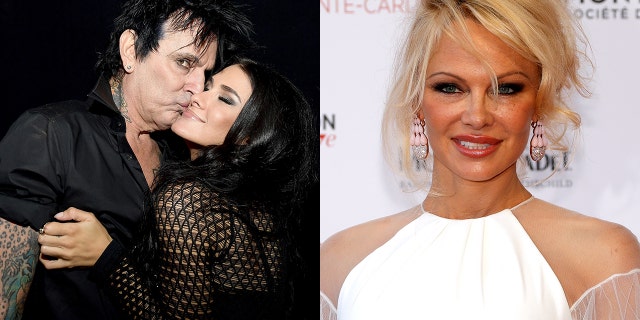 Lee said he planned to press charges against his son which led Anderson to call Lee an "out-of-control" alcoholic.
"His fiancé keeps him drunk - this is what he wants - someone to behave badly with," Anderson said in a statement last week. "He still cannot handle the guilt about his abusive behavior and has never taken responsibility for what he has done."
Furlan, 31, told the New York Post she is "very hurt" that she is being blamed for Lee's behavior.
"I'm very hurt that I'm being blamed when I've only ever tried to help," Furlan told the outlet. "I love Tommy, have always only wanted the best for him, I am wishing peace for all involved."
Lee and his Vine star fiancee announced their engagement in February.