Tom Cruise posts first 'Top Gun 2' photo from movie set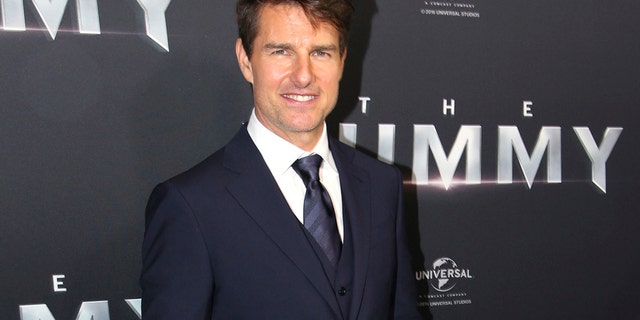 Filming of the long awaited sequel to "Top Gun" is under way – and lead star Tom Cruise has already shared a photo from the set of the air force action flick.
The 55-year-old Scientology poster boy revealed that filming for the new film had begun on May 30 – over a year before the film is due to hit screens.
Taking to Twitter on Wednesday, the star revealed he has slipped back into his fighter jet boiler suit and has his helmet in hand, ready for action.
With his back to the camera, and facing a jet, Tom's iconic character, Lieutenant Pete "Maverick" Mitchell, looks ready to take to the cockpit.
Simply captioning the tweet with the hashtag: "Day 1," the photo shared by the star to his 6.8 million followers also included the iconic quote: "Feel the need."
The simple update was enough to send fans of the film - which came out in 1986 - into a wild spiral of excitement.
"I can't believe it's finally happening!" one fan gushed.
"I've been waiting to see a sequel to Top Gun when I first saw the original movie for the first time when I was 13 years old," they added.
While many others took to Twitter to express that they "can't wait" for the second film.
Titled "Top Gun: Maverick," the second film in the "Top Gun" series is due to be released on June 12, 2019.
The script has been co-penned by "The Hunger Games" film writer Peter Craig and The Jungle Book writer Justin Marks.
While the sequel is to be directed by Joseph Kosinski – who directed Tom in the 2013 action film "Oblivion" and has also directed sci-fi sequel "Tron: Legacy" and firefighter drama "Only The Brave."
Original "Top Gun" director, Tony Scott, took his own life in August 2012 after plans for the sequel had already begun.
The new film is expected to include drone warfare as well as including fighter jets – with Tom's character acting as a flight instructor teaching younger pilots.
Speaking to Access Hollywood about the project last year, Tom promised lots of adrenaline and style in the sequel.
"Aviators are back, the need for speed. We're going to have big, fast machines," he said.
"It's going to be a competition film, like the first one…but a progression for Maverick," the star added.
Other cast details have yet to be revealed, however Tom's on-screen lover Charlotte "Charlie" Blackwood, played by Kelly McGillis, said she intended to "cameo" in the sequel when quizzed back in 2014.
This article orginally appeared on The Sun.