'Today' show must go on following knife-wielding incident, Natalie Morales says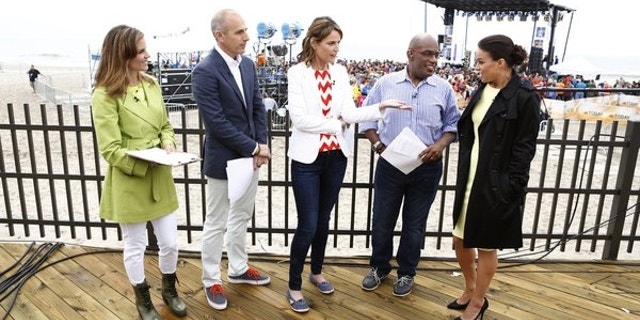 "Today" show anchor Natalie Morales said this morning's frightening incident—when a man in the audience cut himself with a knife during the show—would not impact the series' outside segments.
Morales told TMZ that it had been "kind of a hard day," but that the security team at the "Today" show handled the incident very well.
"Obviously we have a great security team as you see," she told the site. Security moved the show, which was filming in Rockefeller Center's plaza, indoors following the man's outburst.
Morales said though the incident occurred outside of the famed studio, the show would continue to film there.
"That's part of our identity as a show," she explained. "Our guests in the audience, in the plaza, expect to come out and have a good time so we'll still be out here."
At about 7:50 a.m., police say an emotionally disturbed man in his 50s attempted to harm himself during the broadcast. His physical injuries were not life-threatening. His mental condition is being evaluated at a hospital.
"Today" show host Matt Lauer tweeted: "Sorry, a man attempted to harm himself with a knife." He also explained the situation to viewers.
Morales said the minds behind the "Today" show felt it was important to address the incident immediately.
"We felt it was important to talk about it and make sure people knew what was happening," she said.
The Associated Press contributed to this report.