TMZ's Harvey Levin says Jussie Smollett is being treated differently than any celebrity: 'Never seen anything like this'
NEWYou can now listen to Fox News articles!
TMZ founder Harvey Levin is just as confused as everyone about the bombshell dismissal of charges against actor Jussie Smollett, but says the reversal may have something to do with the two brothers accused of helping the "Empire" star stage the attack.
During an appearance on "America's Newsroom" on Wednesday, Levin added Smollett's case was being treated differently than any celebrity he'd ever encountered.
"I've never seen anything quite like this in my entire career," he said. "No one knows what really happened except for a few people in the State's Attorney's office. It's bizarre, it makes no sense... they don't even believe what they're saying."
JUSSIE SMOLLETT HOAX CHARGES DROPPED, BUT FEDERAL INVESTIGATION, LAWSUITS COULD BE NEXT
On Tuesday, it was revealed that Smollet had been granted a nolle pros, which essentially means the case was dropped and that he would no longer be prosecuted for the alleged crime.
The "attack" sent shock waves through the entertainment community when Smollett claimed to have been beaten by two men who threw a substance on him, beat him, and screamed "MAGA country." It was later claimed, however, that Smollett allegedly coordinated with two Nigerian brothers, Abel and Ola Osundairo, to stage the attack.
Levin believes that the decision to no longer pursue charges against Smollett may have had something to do with the fact the brothers' lawyer, Gloria Schmidt, "walked away" from representing them.
"They told police, 'We staged this with Jussie, he asked us to do it, we scoped out the location where we were going to do it, we played it out on the street.' They told the police that line and verse they told the grand jury that line and verse, so they were willing to talk," Levin said.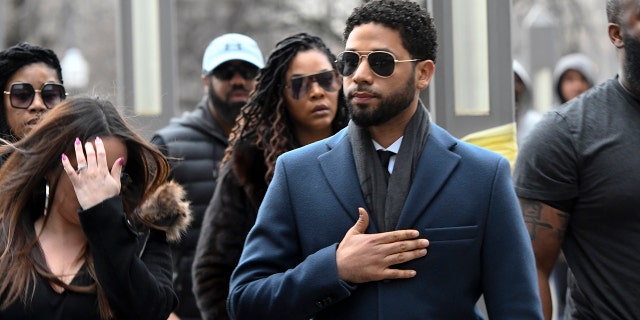 CHICAGO PD SUPERINTENDENT EDDIE JOHNSON, RAHM EMANUAL CALL JUSSIE SMOLLETT CHARGES BEING DROPPED 'WHITEWASH OF JUSTICE'
"Gloria Schmidt wanted these brothers to come out and say they did nothing wrong, that they were consistent. For some reason, the brothers wouldn't do that yesterday, and we've learned that that's when Gloria Schmidt walked from representing them."
A statement from the Cook County prosecutors' office did little to expand on the decision to drop charges against Smollett.
"After reviewing all of the facts and circumstances of the case, including Mr. Smollett's volunteer service in the community and agreement to forfeit his bond to the City of Chicago, we believe this outcome is a just disposition and appropriate resolution to this case," the statement from spokeswoman Tandra Simonton said.
Chicago Mayor Rahm Emanuel and Chicago Police Superintendent Eddie Johnson issued scathing statements on Tuesday when it was revealed the case was dismissed, calling the entire incident a "whitewash of justice."
CLICK HERE TO GET THE FOX NEWS APP
"Our officers did hard work day in and day out, countless hours working to unwind what actually happened that night. The city saw its reputation dragged through the mud...It's not just the officers' work, but the work of the grand jury that made a decision based on only a sliver of the evidence [presented]. Because of the judge's decision, none of that evidence will ever be made public," Rahm said.
It is possible that Smollett could still face federal charges and civil lawsuits in connection to the scandal.