Tito Ortiz, Jenna Jameson Engage in He-Said, She-Said Battle Following Domestic Dispute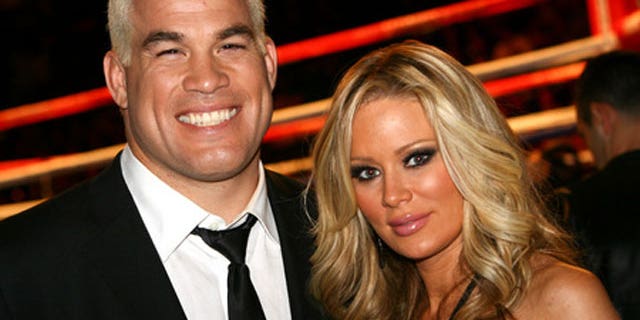 A war of words erupted between porn star Jenna Jameson and her mixed martial arts fighter boyfriend just one day after he was arrested for an alleged domestic violence attack against her.
Ortiz was arrested Monday in Huntington Beach, California, at the home he shares with Jameson and their twin sons. Several hours after posting bail, Ortiz and his attorney accused Jameson of drug addiction and claimed Ortiz never struck her.
"Jenna has been fighting a battle with OxyContin addiction for the past year. For Tito and her family this has been an uphill battle. Unfortunately this morning she had a relapse," Ortiz attorney Chip Matthews said. "Tito was trying to help her, she has threatened suicide before. Tito has done everything in his power to protect her privacy and the privacy of their children."
Jameson's story changed yesterday, as she initially told gossip site TMZ that Ortiz had not touched her.
"It hurts me to think that everybody out there thinks he beat me," she told reporters. "He did not beat me. If he would have beat me, I would be dead right now. There was an altercation."
SLIDESHOW: Jenna Jameson's Transition From Porn Queen to Mother of Two
Two hours later and one hour after his press conference, she said of his claims against her, "talk about trying to save someone's ass for being a wife beater."
According to Matthews, on Monday morning the UFC champ confronted his girlfriend (and mother of their twin boys) about drugs he had found and she denied using. Jameson was allegedly suffering an "emotional breakdown," prompting a 911 call from Jameson's father Larry who was reportedly not in the room at the time of the confrontation.
Ortiz wept openly at the hastily arranged news conference at an Italian restaurant in North Hollywood, saying the support of his family and Jameson's father "just means the world to me."
"My parents have gone through an addiction, and I'm seeing a mirror of that," Ortiz said. "I hold everything dear to my heart that Jenna will be OK."
Ortiz is a former Ultimate Fighting Championship light heavyweight champion whose celebrity has eclipsed his mixed martial arts accomplishments since he began a relationship in 2006 with Jameson, perhaps the world's most famous adult film actress. Jameson, who crossed into the mainstream after publishing a popular autobiography in 2004, gave birth to the couple's twin sons, Jesse and Journey, in March 2009.
Jameson and her father, Larry, spoke to celebrity website TMZ.com and other reporters outside the home earlier Monday. Wearing a wrap on her right elbow, Jameson described herself as "completely shocked" by the incident, saying Ortiz had "lashed out" at her, leaving her feeling "betrayed."
But Matthews also insisted that the police do not have to have visible signs of injury to make an arrest in domestic disputes, and that the police report indicated that Jameson had "a scratch on her elbow" which may explain why she was photographed leaving a CVS pharmacy wearing a medical brace on her right arm just hours after the arrest.
Jameson's story does seem to contradict itself. In an interview with TMZ at around 8 p.m., she adamantly denied that Tito had hurt her. Just two hours later, she repeatedly referred to him as "a wife beater."
Still, this isn't the first time that Ortiz, who is the most decorated fighter in the history of mixed martial arts, has had a brush with the law.
On Monday, Pop Tarts uncovered court documents that showed he was sentenced to jail time back in 1998 after pleading guilty to charges of "battery with serious bodily injury."
The incident took place before he struck fame and was filed under his birth name Jacob Christopher Ortiz. The case went to trial in the Orange County Superior Court and Ortiz was sentenced to three years probation, 29 days in jail and 232 hours of community service.
Friends of the couple were surprised at the news, telling Tarts that there were never any signs of trouble between them.
"Jenna was fine over the weekend, better than fine," a Jameson pal told Pop Tarts. "She was so happy playing with her boys, talking about what work she could do that wouldn't keep her away from her kids for too long. Her first priority is being a good mom. It's so scary that this has happened."
Another source close to the starlet was also flabbergasted by the turn of events, and told Tarts that it always appeared as though the couple, who never felt the need to officially tie the knot, had a very loving relationship.
"Tito was just delightful, I could always see why Jenna was attracted to him. He was so gentle, like a big teddy bear and they were so madly in love," added our insider. "Jenna went through a lot in her last marriage and thought this (relationship) was a dream come true. I just can't believe it."
Although his career has waned, Ortiz is among the most popular fighters in mixed martial arts history. Ortiz, whose nickname is the Huntington Beach Bad Boy, is a former collegiate wrestler and has been competing in the growing sport since 1997.
He was the UFC's light heavyweight champion from 2000 to 2003 during the formative years of the sport's dominant promotion, making five title defenses before losing his belt to Randy Couture. After his career declined amid several injury problems, including major back surgery, Ortiz left the UFC in 2008 in a bitter dispute with president Dana White, his former manager.
Ortiz re-signed with the UFC last year, losing a split decision to Forrest Griffin in his return fight last November. Despite his celebrity and business ventures, including a clothing line, Ortiz is winless in his last four UFC fights since October 2006.
Ortiz served as a coach on the most recent season of "The Ultimate Fighter," the UFC's popular reality television show currently airing on Spike. Yet he apparently was forced to drop out of the show during its taping earlier this year, and the UFC has already announced it will replace him with Rich Franklin for the show's traditional season-ending bout with fellow coach Chuck Liddell.
Fox411.com's Hollie McKay and the Associated Press contributed to this report.