Court Records Show Tito Ortiz Previously Jailed For 'Battery Causing Serious Bodily Injury'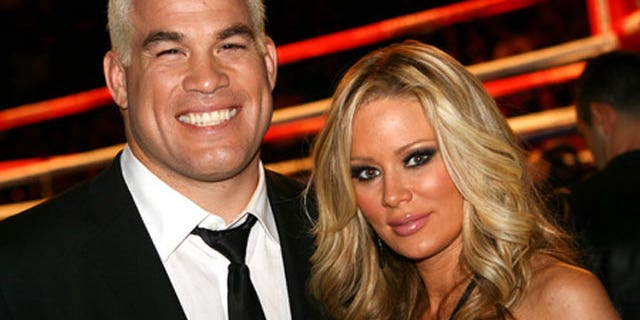 LOS ANGELES – Tito Ortiz was arrested on Monday morning on charges of domestic violence allegedly involving his girlfriend Jenna Jameson, following a 911 call reportedly made by the retired porn princess' father. Now Pop Tarts has uncovered court documents that may play a significant role in any case brought against the professional fighter.
According to court records, the UFC star was sentenced to jail time back in 1998 (before he became famous) after pleading guilty to charges of "battery with serious bodily injury."
The case (which was filed under the birth name Jacob Christopher Ortiz) went to trial in the Orange County Superior Court and Ortiz was sentenced to three years probation, 29 days in jail and 232 hours of community service.
At the time, he was also found not guilty of charges pertaining to assault with a deadly weapon other than a firearm as well as other counts of battery and assault.
And according to Los Angeles Criminal Defense Attorney James Blatt, prior convictions will be taken into account when the District Attorney files the current case.
SLIDESHOW: Jenna Jameson's Career Comeback
"It relies on two important factors. Have there been prior incidents between these two individuals, has he been convicted in the past of domestic violence or is he is on probation for domestic violence? The second critical factor, equally critical, is the nature of her injuries," Blatt explained. "If there is great bodily injury of significance, then that is an indication that there may be a felony filing (as opposed to a misdemeanor)."
And the fact that Ortiz is a professional fighter is also going to play a prominent role in the outcome of the charges.
"Obviously that's going to be a factor, however, the key factor is what he did with that. Did he beat her severely? The key factor is always injuries," Blatt added. "If it's a felony, he has the potential of 16 months, two years, or three years in prison. If it's a misdemeanor, he's up for one year in the county jail."
Criminal Defense Lawyer Steve Cron also agreed that Ortiz's history will impact his sentencing, but if he has been crime-free for the past 12 years, it won't have a huge bearing.
"The more typical domestic violence cases, involving minor injuries, are usually treated as a misdemeanor," Cron said. "But in nay case there is a mandatory 52-week program of therapy and counseling he will have to complete if found guilty."
Jameson has visible injuries as a result of the alleged dispute, and was photographed on Monday afternoon leaving a CVS drugstore in Huntington Beach with a medical brace on her right arm.
A rep for Jameson did not respond for comment and Ortiz's agent declined to comment on the situation.
But if there were any prior domestic disturbances in the relationship, it seems Jameson kept it well hidden. So well in fact that even those in her inner circle are "shocked" and "saddened" by what has transpired.
"Jenna was fine over the weekend, better than fine," a Jameson pal told Pop Tarts. "She was so happy playing with her boys, talking about what work she could do that wouldn't keep her away from her kids for too long. Her first priority is being a good mom. It's so scary that this has happened."
Another source close to the starlet too was flabbergasted by the turn of events, and told us that it always appeared as though the couple had a very loving relationship and never felt the need to officially tie-the-knot.
"Tito was just delightful, I could always see why Jenna was attracted to him. He was so gentle, like a big teddy bear and they were so madly in love," added our insider. "Jenna went through a lot in her last marriage and thought this (relationship) was a dream come true. I just can't believe it."
Jameson, a regular on Twitter, announced just after news of the arrest broke on Monday that she would no longer be sharing her personal life with the web and confirmed that she had been a victim of some form of "abuse."
"I'm sorry to all of my fans, but I'm going to be quitting Twitter. I can't take any more abuse from ANYONE," she wrote.
Meanwhile several of Jameson's friends on Facebook have been advising the star to "get a restraining order" and congratulating her for "getting away from someone like that."