Tinseltown Tidbits: Move Over Kobe Bryant, LeBron James Wanted for Iraq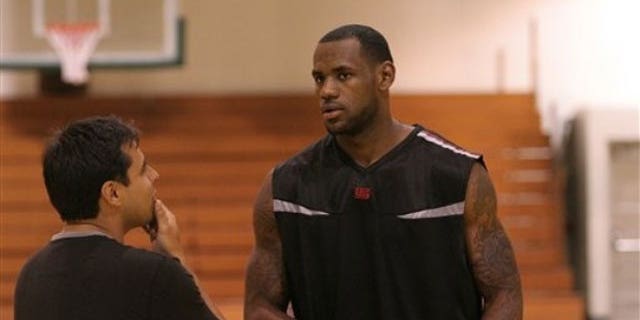 LOS ANGELES – Basketball great Kobe Bryant is a wanted man -- at least by World Wrestling Entertainment Champ and former "Real World" star Mike "The Miz" Mizanin. The 29-year-old (joined by several other WWE superstars and divas) just got back from a week in Iraq filming the 7th Annual "WWE Tribute to the Troops" to air December 19 at 9 p.m. on NBC.
But for the eighth year, he wants an extra guest.
"LeBron James is always a good one since he's the second biggest star in Cleveland behind me. Haha," Miz told Tarts.
And, understandably, the experience was a real eye-opener.
"One camp we visited didn't even have running water. Could you imagine living without running water? Plus there's nothing to do besides work out, eat, and work. However when we came in seeing the smiles on these heroes' faces was priceless. I feel safe and secure with our troops protecting us," Miz added. "One of the great things about our tribute is that their families get to see them enjoy themselves, smile and be happy. It's a great change from seeing the news with all the bombings and negativity."
Meanwhile Tila Tequila has been living up to her reputation as a not-so-classy starlet. Pop Tarts spies spotted Tila and her alleged fiancé Casey Johnson posing for pics together at the Famous Stars & Straps party in Hollywood last week when her breast popped out of her dress as she jumped over the velvet rope to get inside.
"I'll make a deal with you all," she announced to the photogs nearby. "If you don't take pictures of my boobs I will give you a crotch shot."
Charming.
Moving along, Nick Cannon told Tarts at last weekend's KIIS FM Jingle Ball over the weekend that he listens to wife Mariah Carey sing all day. Seriously.
"Sometimes like twenty-three hours out of the day," he said. "But it's beautiful to be able to have one of the biggest stars in the world just be able to sing to you in the morning and stuff, it's wonderful. I was always a huge Mariah fan. My favorite Mariah song would be "Some Day." That was my joint back in the day."