Three breasted lady appears topless in 'Total Recall' reboot, despite PG-13 rating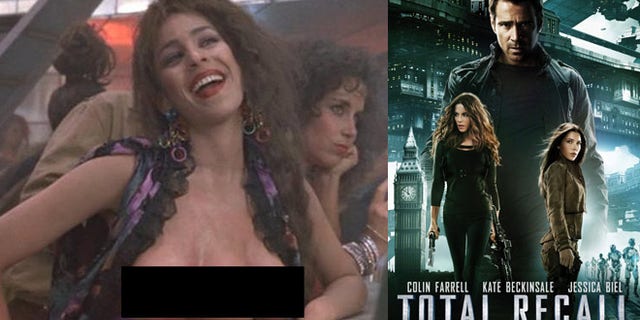 The original "Total Recall," released in 1990, was famous for a lot of things: cementing Arnold Schwarzenegger as the world's biggest action star, being the vehicle where Sharon Stone was "discovered," and for making a bazillion dollars.
It is also famous for Mary, the three-breasted lady.
Fast forward to 2012! A "Total Recall" remake premieres this Friday, starring Colin Farrell, Kate Beckinsale, and Jessica Biel.
And Kaitlyn Lieb as Mary, the three breasted lady.
There is one big difference between the two movies, however. The original was rated R, while the new one is rated PG-13.
But despite the new rating, the three-breasted prostitute will be appearing in all her glory once again.
A rep for Sony told TMZ that the character will appear completely nude from the waist up, which is fairly rare in a movie marketed to tweens.
Lycia Naff, the actress who played the original triple threat, said she's happy they kept in her scene and didn't cover up the "best part."