Thomas Ravenel's assault allegations addressed by 'Southern Charm' cast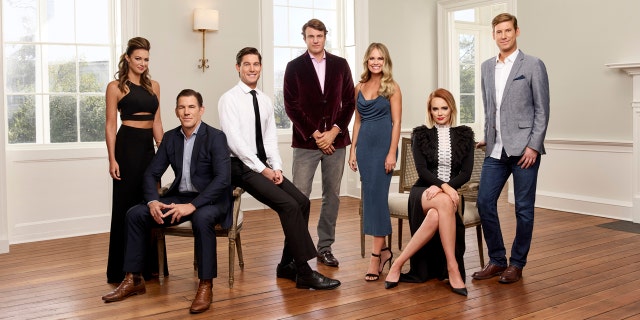 The cast of Bravo's reality series "Southern Charm" has broken their silence on cast member Thomas Ravenel's sexual assault allegations during the show's Thursday night reunion special.
Ravenel was not present for the show's special and host Andy Cohen broke the ice with a statement from the reality star's lawyers.
"Along with Bravo, our client made the mutual decision not to attend today's reunion taping as there is a pending investigation. Our client is fully cooperating with authorities on this investigation. He expects to be completely vindicated once the investigation is concluded. He sends his best regards to his fans and his fellow castmates," the statement said.
Kathyrn Dennis, Ravenel's ex-girlfriend and mother of his two children, quickly replied to the statement and said, "I'm not going to comment until, I guess, it's resolved, I think. What I'm going to focus on the children and staying out of it."
The 26-year-old's up-and-down relationship with her ex was on display during the early seasons of the NBC-owned TV show. In addition to a long custody battle with the 55-year-old, Dennis also dealt with her own personal struggles with substance abuse.
Now sober, Dennis was recently granted shared custody of her children with Ravenel.
"We've been trying to spend more time together in front of the children," she added. "So things are, like, moving in the right direction, as best as they can."
Cohen also mentioned that one of the women who accused Ravenel of assault was their former nanny.
Cameron Eubanks and Naomie Olindo, two more women from the show's cast, also weighed in on the Ravenel scandal.
"I think it's the right decision for him not to be here," Eubanks stated.
"All I know is Thomas has always been lovely to me," Olindo said. "He can be very volatile, so I think like everyone else I just want to stay out of it really."
The show's famous bachelor, Shep Rose, also chimed in, but with a different take from his other cast members.
"I will say this, 90 percent of the time Thomas is funny, eccentric, jovial and then we've seen, there's a side of him that is not really him," he explained. "There's a big part of him that I really, really love, you know, and a little part that I don't."
The allegations against Ravenel first came to light in May when model-turned-realtor, Ashley Perkins, accused the star of sexually assaulting her mother while on a first date in 2015.
Perkins told Fox News her mother, Debbie Holloway Perkins, met Ravenel over Tinder in October 2015. She said after a few months of talking, Ravenel asked Debbie on a last-minute date on December 25, just over a month after Ravenel's now-former girlfriend gave birth to their son on November 10, 2015.
"[My mother] told me that he grabbed her by the wrist and held her down. He then proceeded to pull his penis out," Ashley told Fox News. "She said 'no' and then he shoved his fingers inside of her vagina and later her anal area."
She continued, "She finally screamed at him, 'You're a rapist!' And apparently, that was a trigger word for him because he jumped right off of her."
Perkins said that she was later compelled to speak out after seeing a commercial for Ravenel's show. Her mother then reached out to Gloria Allred, who agreed to take her case. Ravenel reportedly agreed to settle with Debbie for $200,000, according to Ashley, who said she was present during the mediation on June 1, 2016. Allred had no comment when reached by Fox News.
Ravenel's current girlfriend, Ashley Jacobs, will appear on the second part of the "Southern Charm" reunion, on Thursday, July 26. She has yet to comment on the allegations.
Fox News' Sasha Savitsky contributed to this report.