Third Eye Blind taunts crowd at Cleveland show: 'Raise your hand if you believe in science'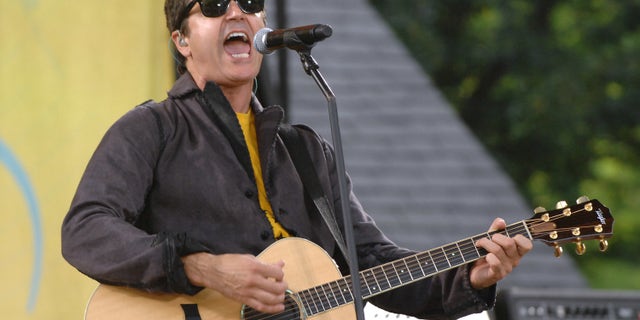 NEWYou can now listen to Fox News articles!
Third Eye Blind got political on Tuesday at a charity benefit for Musicians On Call, which was held during the Republican National Convention in Cleveland. The band performed at the Rock and Roll Hall of Fame & Museum, and the show quickly turned into an opportunity for frontman Stephan Jenkins to discuss LGBT rights and eventually mock the crowd.
According to multiple media reports and concert attendees, Jenkins called out at one point "Raise your hand if you believe in science." The audience, which presumably included people attending the RNC, reportedly booed at the statement.
In a video posted on Twitter, Jenkins fires back, "You can boo all you want, but I'm the mother f---ing artist up here."
During the show, Jenkins introduced one of the band's hits, "Jumper," by speaking about LGBT rights, referencing his cousins, who are gay.
"To love this song, is to take into your heart the message and to actually, actually have a feeling to arrive and move forward and not live in fear and imposing that fear onto other people," he said.
The crowd can be heard cheering after those statements in one video.
The band didn't seem to mind having upset some concert goers. They took to Twitter to reply to the praise and criticism they received on social media.
One user tweeted to the band, "I have never been more disappointed" to which the band replied, via their verified account, "Good."
Another user asked the band if they were concerned about hurting the charity with their antics.
"Great question," the band wrote. "We were not, as musicians on call were well aware of who we are and our take on things (like science and rights!)"
The band also clarified that they did not attend the actual convention.
"Darling, we would never play the rnc," they wrote to one commenter. "We played a charity event for musicians on call at the Rock and roll hall of fame.