The X Factor: Josh Krajcik Brings Paula Abdul to Tears; Chris Rene Cries for Dad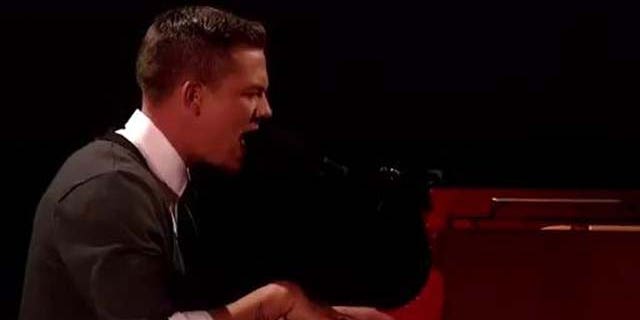 It came down to the wire on the X Factor Wednesday evening, as the four remaining contestants sang for a spot on the "Finals" round next week.
Chris Rene, Melanie Amaro, Marcus Canty and Josh Krajick all opened up about their personal struggles and why they deserved to win $5 million prize.
Rene, who's been clean and sober for the past seven months after leaving rehab, welled up with tears when talking about his dad.
Rene said his father was the one who taught him how to be a musician before his passing.
The crooner showed his strengths and versatility as an artist, playing the piano when performing Alicia Keys' "No One" and Sugar Ray's "Fly."
Krajick also played the piano while singing a moving rendition of Leonard Cohen's 1985 classic "Hallelujah," which didn't move music executive LA Reid, but made co-judge Paula Abdul cry.
"I thought it lacked excitement," said Reid as the crows booed him on.
Abdul quickly retaliated.
"LA how could you even say that!" said an offended Abdul with tears in her eyes.
Simon Cowell and Nicole Scherzinger agreed with Abdul.
"That was like a prayer," Scherzinger said. "You are a gift to all of us."
The former burrito maker also took on The Beatles' 1969 song "Come Together."
Melanie Amaro, meanwhile, delivered a powerful rendition of Mariah Carey's "Hero" and then stepped out of her comfort zone to perform an upbeat version of Nina Simone's soulful 1965 song "Feeling Good."
Amaro, 19, was ecstatic as Carey tweeted her support to her, thus building the pressure and expectations.
"I don't want to let her down," Amaro said.
She also mentioned that she wants to give back to her family for all of their support.
"I want to give them financial stability," Amaro said. "They've sacrificed so much for me."
Underdog Marcus Canty put on a romantic performance "for that special lady," singing Boyz Boyz II Men's "I'll Make Love to You."
Canty explained how being in the bottom three and coming back each week has made him stronger and appreciate the opportunity on the X Factor.
"I was mowing lawns before X Factor, dreaming about music," he said.
The judges thought Canty put on a good performance, but were split for his second performance, George Michael's "Careless Whisper."
"I can think of you as an underdog but tonight you look more like a champion," said Reid.
Cowell disagreed and called Canty's performance "horrific," while Abdul and Scherzinger stood by Reid.
On Thursday, America will vote two contestants off the show. Next week, the final two will go head-to-head for the $5 million prize.
You can reach Alexandra Gratereaux at: Alexandra.Gratereaux@foxnewslatino.com or via Twitter: @GalexLatino
Follow us on twitter.com/foxnewslatino
Like us at facebook.com/foxnewslatino