'The Voice' recap: Matthew Schuler dominates Top 10 night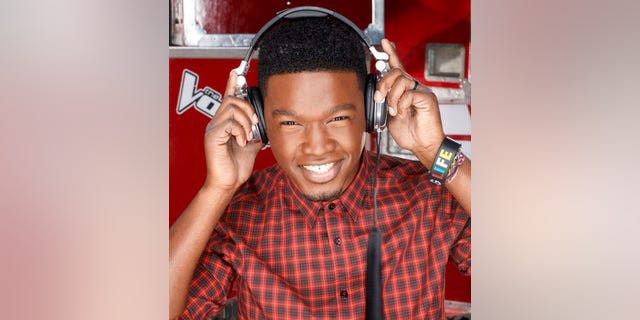 "The Voice's" final 10 singers assembled Nov. 18 for a live two-hour battle of epic proportions. Yes, it was punctuated by a few weird moments — like a random "hello" from Olympian Usain Bolt and a super-awkward group number — but the 10 singers were eventually given their individual moments to shine. Our personal favorite of the night was Matthew Schuler, who soared high above his competition with a powerful rendition of "Beneath Your Beautiful." Without a doubt, he's the best guy left in this game.
Team Blake's Austin Jenckes got things rolling with a bombastic performance of The Outfield's "Your Love," which the judges unanimously enjoyed. Not only did Austin do his coach proud, but Christina Aguilera even said the song "took us there!"
Jacquie Lee was up next, but unfortunately, she didn't carry on the show's momentum. Maybe it's because Austin set the bar as high as he did, but she delivered an underwhelming, stripped-down rendition of Zedd and Foxes' "Clarity." She struggled with the performance, and the coaches took note.
Fortunately, Will Champlin got things back on track with his performance of "Love Me Again." His piano skills and vocal prowess were a winning combination, and coach Adam Levine said his pupil did a "great" job.
Caroline Pennell kicked things up a notch with "Leaving On A Jet Plane," putting a big ol' smile on her coach's face. "Nothing makes me happier than for you to be happy," Cee Lo Green told her — and with high praise from all four coaches, Caroline was definitely looking happy.
Last week's stand-out performer, Cole Vosbury, was slightly less dynamic tonight — but that still makes him better than at least half of the other contestants. Even though his take on "To Be With You" left more to be desired, there's no way he's going home tomorrow night.
Tessanne Chin was up next, and as always, Team Adam's solid siren gave it her all. Crooning "If I Were Your Woman," Tessanne absolutely gutted the coaches, the audience and everyone watching at home. Adam told her this performance solidified her as a major contender — as if she wasn't already.
While Tessanne is an intimidating act to follow, Ray Boudreaux might have actually been better. He's really been upping his game as the season progresses, and tonight's performance of "You Are The Best" was no exception. Christina noted Ray's improvement, telling him he's "shown the most growth."
But Christina had considerably less kind words for James Wolpert after he sang "Without You." Noting his struggle with the higher notes, she told him the pitch didn't always "line up." But at least she told him he was "super clean."
Fresh off last week's controversial save, Kat Robichaud proved she belongs in the competition with — what else — "We Belong." Cee Lo even called her performance "immortal."
And then there was Matthew. As far as the guys are concerned, he's the one to beat.