The 'Tiger Woods of Motocross' James Stewart Gets His Own Reality Show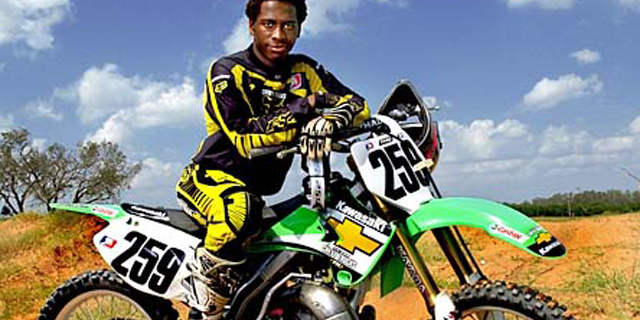 As the No. 1 motocross racer in the world, James "Bubba" Stewart is at the top of his game. But in 2010, being on top is a lonely, hollow existence if you don't have your own reality show.
Hence "Bubba's World," a 10-episode reality series that premieres Sunday on Fuel TV, chronicling one of the few African American athletes in motocross racing.
"It's about my life, a little bit of reality and just having a good time," Bubba told Fox411.
As a black athlete in a predominantly white sport, Stewart's life to date has been about breaking down barriers. "It's pretty cool because I'm the first [black athlete] to do anything in motocross. So I get a lot of love," he said. "It's cool to ... see a lot more black kids, a lot more minorities to come in [to the sport] and want to be like James Stewart."
With fame comes scrutiny, as he's learned that from another African American who dominates a largely white sport, Tiger Woods.
"The biggest thing I learned is that you always have to be straight up and down," said the soft spoken star. "As an athlete, I love Tiger Woods for everything he's done on the golf course. Everything that's happened on the side, I'm sure he regrets a lot of things and I'm sure we all learned from that. But he's still a dominant athlete and as far as being an athlete I'm still a huge fan of his."
Although Bubba isn't a household name like Tiger just yet, he's getting ready for the new fame "Bubba's World" will bring. "I get recognized," he said. "Once this TV show comes out, its going to be even more [recognition] so I'm bracing myself for it."
In a sense, the 24-year-old is used to having cameras following him around.
"Riding is a little bit different but it's kind of the same thing [as filming a reality TV show]," he said. "The cameras are following you when you're riding too. You're in front of a lot of people. But when I finish riding, the cameras don't go to sleep with me. In the reality show they do."
Stewart has learned about reality TV from the greats. "I've been a big fan of Flava Flav," he told Fox411. "I love the 'Love' shows, 'The Favor of Love' and 'I Love New York' - I just think it's funny."
But don't expect "Bubba's World" to be flooded with trashy women vying for his attention. Or maybe they do? "There's always ladies out there," said the single athlete. "Luckily I've been blessed to be in a situation where I race motorcycles and I get to meet a lot of different people."
But even though he's the best motocross racer on the planet, and won every single race he competed in in 2008 (24 for 24), Stewart still doesn't get any preferential treatment at home from his parents. "They treat me like James Stewart. I'm not anything special," he said. "I still get in trouble when I talk back – just like any kid should."
"Bubba's World" airs at 10pm ET on Fuel TV.