The best talk show moments of all time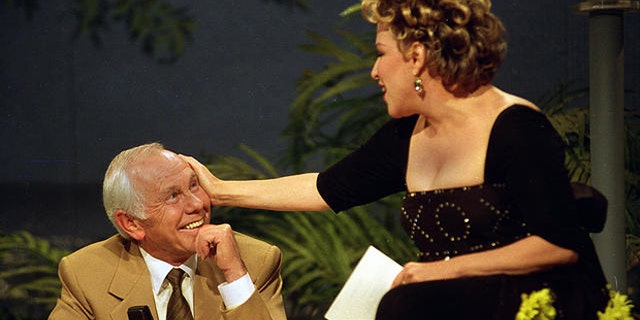 They yap, they yammer, they sometimes even yell, but where would we be without our trusty talk-show hosts? Their programs pep us up for the day ahead and soothe us into slumber at night — that is, when they're not shocking the heck out of us! Here are the biggest, wildest, funniest and, yes, even the most tragic moments from the great wide world of chat.
1. Bette Midler bids farewell to Johnny Carson on "The Tonight Show" (1992) A day away from retirement, the King of Late Night was serenaded by the Divine Miss M, who chose the great boozy classic "One for My Baby (and One More for the Road)." The host was near tears. So was Midler, who fled the set immediately after her song. You try watching it without bawling like a baby.
2. Oprah rolls out her fat wagon on "The Oprah Winfrey Show" (1988) In a stunt she says she regrets to this day, a size 10 Lady O kicked off her "Diet Dreams" episode by dragging out a Radio Flyer containing 67 pounds of fat — equivalent to the amount of weight she'd lost. Of course, she gained it all back, but that's part of her appeal. Oprah may be the Queen of All Things, but she's also one of us.
3. Bill Maher goes too far on "Politically Incorrect" (2001) On his first show after the 9/11 attacks, Maher slammed U.S. military policies, claiming we are cowardly for firing missiles at our enemies from 2,000 miles away. Outraged advertisers boycotted the show and 17 ABC affiliate stations stopped airing it. By May, it was canceled. No wonder he moved to cable.
4. Jack Paar takes a hike on "The Tonight Show" (1960) This kind of thing just didn't happen on live TV. The brilliant but testy Paar stunned the nation by going on air and quitting his show because censors wouldn't let him tell a joke about a "water closet." He strolled back on stage three weeks later with the priceless opener "As I was saying before I was interrupted..."
5. Katharine Hepburn redecorates "The Dick Cavett Show" (1973) The notoriously bossy movie legend showed up at Cavett's studio still not sure she wanted to be interviewed. She rearranged furniture, griped about the carpet and wanted the set painted a different color, not knowing Cavett — ever the imp — had a camera rolling the whole time. Utterly fantastic.
6. Drew Barrymore flashes David Letterman on "Late Show" (1995) To celebrate Dave's birthday, the saucy actress hopped atop his desk, pulled up her sweater and bared her breasts. Said the startled host: "I can't thank you enough for that." If anyone else pulled that stunt, we might be yelling, "Tramp!" With Barrymore, it was perfectly adorable.
7. Rosie O'Donnell vs. Elisabeth Hasselbeck on "The View" (2007) They'd long been combative, but when liberal O'Donnell accused conservative Hasselbeck of not defending her against Republican critics, all hell officially broke loose. The next day, O'Donnell was history. The fight was terribly uncomfortable, but, as with all train wrecks, we just couldn't turn away.
8. John and Yoko give peace a chance on "The Mike Douglas Show" (1972) The world-renowned anarchists cohosted with the famously unhip Douglas for an entire week and taught America all about social unrest, free love and macrobiotics. Douglas called this transcendental hoot "probably the most memorable week in all my years on the air."
9. Kelly Ripa auditions to be Regis Philbin's cohost on "Live! With Regis" (2000) The Ripster was frisky and funny in her many test shows, but when psychic Char Margolis "channeled the dead" and revealed that the soap queen was pregnant (something she hadn't even told her bosses at "All My Children!") things got sweetly emotional. Ripa won our hearts — and the job.
10. "I'm F---ing Ben Affleck" on "Jimmy Kimmel Live!" (2008) We can't remember who won the Academy Awards that night, but we'll never forget Jimmy's hilarious post-Oscar rebuttal to then-girlfriend Sarah Silverman's video "I'm F---ing Matt Damon." Harrison Ford! Cameron Diaz! Affleck, too! Tastelessness was never so all-star awesome.