'The Bachelorette': Rachel buys one sexy suitor a watch, time to select final four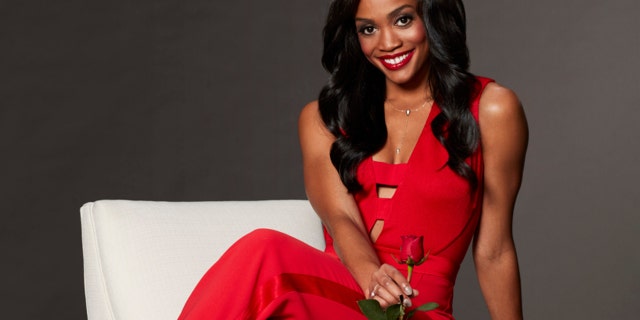 "The Bachelorette" Rachel Lindsay had to whittle her group of six men down to four on Monday night's episode of the ABC reality show.
But time seemed to be most on the side of one particular guy as Rachel gave him a pricey gift, buying him a watch in Switzerland.
On the episode that began in Geneva, Rachel had three one-on-one dates and a group date planned for finalists Bryan, Peter, Eric, Dean, Adam, and Matt.
Bryan got the first date and he and Rachel checked out the famed Swiss Breitling watch store.
"I like black," Bryan he said while looking at the colors of the timepieces. When Rachel, the first African-American "Bachelorette," laughed, Bryan smiled, "Obviously."
Attorney Rachel told the Miami-based chiropractor that she was going to buy both of them Breitling watches (which cost thousands of dollars), and Bryan was floored.
"Are you serious?" he exclaimed.
Rachel confirmed the gift, and Bryan responded by kissing her passionately. "Yes, we have matching watches," Rachel gushed to the cameras.
They continued smooching during a boat ride, while back at the hotel, Dean told Peter that Bryan was 37 years old and a player.
Then Rachel told the cameras, "He's such a catch. I don't understand how he's still single. Bryan seems too good to be true."
Over dinner, Rachel and Bryan found out they'd both attended private schools and he said, "I want to picture you in your school girl outfit."
The doctor said his previous girlfriend broke up with him because she couldn't get along with his mom so he was scared of Rachel visiting his family in Miami; but she advanced him to her final four.
On her one-on-one with Dean, the couple went to church together.
Dean admitted he didn't come from a traditional family and she pressed him about why he feared her visiting his hometown of Aspen, Colorado.
"My family is not going to be the family you want to see," Dean said, because after his mother had died when he was a teen, his dad had become eccentric.
Rachel rewarded his honesty with a trip to the final four.
Peter also got a one-on-one with Rachel and sparks flew as they took a helicopter ride to see the Swiss Alps and then went dog sledding in the snow.
Peter admitted to Rachel he had thought about leaving the show altogether because of the difficult dating process.
The Wisconsin business owner said he'd never dated a black woman before Rachel -- but that didn't seem to bother her.
Peter admitted he and his previous galpal slowly drifted apart and she was crying as he drove away after their split. He felt guilty about bailing on the relationship, getting choked up as he said, "I truly hurt her."
Peter told Rachel he thought he was ready to move on with another romance but brought her up short by saying he'd let her know if he had any reservations about the two of them.
But Rachel thought he was worth the risk and he became her third finalist.
That left Eric, Matt, and Adam for the group date and they took a boat to France where they had champagne in front of a chateau.
She sobbed uncontrollably about having to give Matt the boot because her other relationships were stronger.
The choice between Adam and Eric was made after Eric opened up about his rough upbringing in Baltimore. The only black man left in the competition told Rachel many of the guys in his family had drug and legal problems.
"I always had to figure out life on my own," said Eric, who had never before brought a girl home to meet family members.
Rachel chose Eric over Adam, and he joined Peter, Bryan and Dean as the bachelorette's top four.