'The Bachelor' recap: Sean Lowe and Catherine Giudici tie the knot on live TV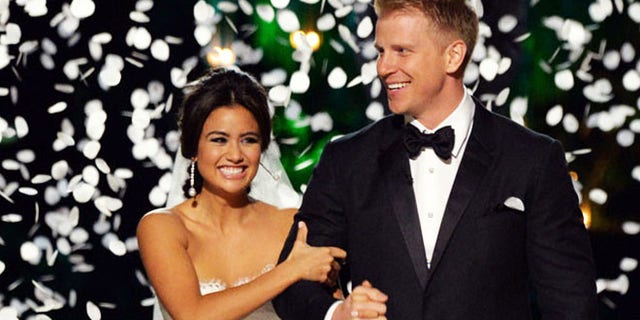 At a teary and romantic ceremony at the Four Seasons Biltmore in Santa Barbara, Calif., former "Bachelor" Sean Lowe and Catherine Giudici tied the knot Sunday night in a live television special on ABC.
Sean lost his composure as soon as he saw his bride begin to walk down the aisle to a cello rendition of "Human Nature," cried throughout the ceremony, and completely broke down as the minister -- who happened also to be his father -- pronounced them man and wife.
With emotions running high and clearly not scripted, you almost forgot it was live television—until host Chris Harrison cut in for commercial breaks, that is.
"Before I met you, before I even knew you existed, I knew you were coming," Catherine said, as she choked up during her vows. "I was ready to give my whole heart to someone and here you are. I am completely consumed by you and tonight we get to become one."
Catherine told her new husband that she promises to love him "until after my heart bursts and until after our children are old and gray."
"I thank God for bringing me to you," she said.
Sean, who also wrote his own vows, told Catherine that from the moment he met her, he wanted more of her "infectious smile and adorable giggle."
"You had me hooked from the beginning and I didn't want to let you go," he said.
"We met in the strangest way you could possibly imagine," he added to laughter from the group of guests made up primarily of former "Bachelor" cast members. "I know that we met on 'The Bachelor' so that I could fall in love with my best friend.
"So in front of my dad, my family and my friends, I love you and I'm going to love you for eternity."
Sean's dad, Jay, added to the emotion of the ceremony by adding a personal touch to his lines.
"You are the best son a father could have," he said. "You have such kindness and honesty—it's what draws people to you. I have watched you your whole life live out your faith to Jesus Christ. I am so proud of you."
To Catherine, Jay said, "[Sean's mom] and I are head over heels in love with you, girl."
The audience, comprised of successful "Bachelor" couples including Trista and Ryan Sutter, Molly and Jason Mesnick, and Ashley and J.P. Rosenbaum, cheered as Mr. and Mrs. Sean Lowe walked down the aisle together at the end of the ceremony.
The ceremony itself took place at the end of a two hour special, with the first hour and a half dedicated to a look back at Catherine and Sean's journey on "The Bachelor" together and their wedding preparations.
The couple – who had been living separately since their engagement – turned their move from Los Angeles to their new home, Dallas, into a road trip.
The special featured A LOT of discussion about the hot topic surrounding Sean and Catherine since their engagement – their decision to wait until marriage.
"Bachelor" producers played up the suspense with live cutaways to the couple's "honeymoon suite," where they would spend their first night married.
During the preparations, Catherine told a clearly confused celebrity wedding planner Mindy Weiss that she wanted the ceremony to be "grown sexy."
"Our relationship has been so fun, silly and youthful, but the wedding day for me is my coming out party," Catherine said. "I want it to be something that's sophisticated, but with an air of sexy."
In an interview with Chris, Sean expressed his frustration with the media reports surrounding his decision to wait.
"They just want to make me seem like I'm weird," Sean said. "What I want people to know is that it is just a small part of my faith."
But Sean showed America that he was ready to be done waiting, as cameras followed him to a boutique to pick out sexy lingerie for his soon-to-be wife.
"I can't wait to be able to showcase it when I'm his wife," Catherine said.
The special concluded with well wishes and a send-off from Chris, who -- of course -- didn't forget a plug to watch the next part of current Bachelor Juan Pablo's journey to find his own love tonight on ABC.
It never ends.