Teresa Giudice says husband Joe Giudice's deportation ruling is to 'make an example out of us'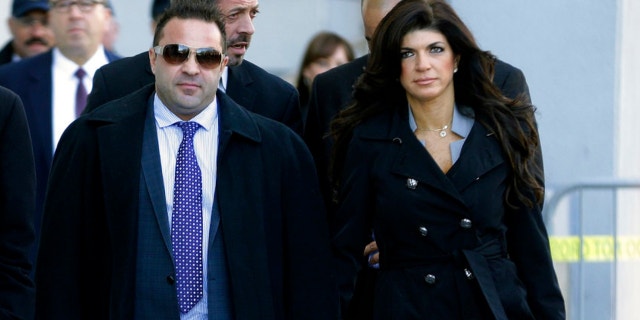 NEWYou can now listen to Fox News articles!
"Real Housewives of New Jersey" star Teresa Giudice said Thursday officials are trying to "make an example" out of her husband Joe Giudice, who was ordered to return back to his native Italy after he finishes his prison sentence.
Giudice opened up about her family and how they're coping with the news since it was announced last month. The reality star told People her husband is "very upset" about the possible deportation.
"He's a strong guy and he's just — again, we're just doing the best we can," Giudice told the magazine. "You just got to just deal with it, you know?"
"They did make an example out of us," Giudice said about the court ruling.
"They know we're going to fight it. They know mommy is doing everything she can," Giudice said, referring to the couple's four daughters. "They know I'm doing everything I can. So that's it. That's all I can do."
TERESA GIUDICE ASKS PEOPLE TO 'PRAY' FOR HUSBAND JOE GIUDICE AMID DEPORTATION DRAMA
A judge ordered Joe Giudice to return to his native Italy after he completes his 41-month prison sentence next March. Giudice, who is serving time for mail, wire and bankruptcy fraud, is currently being held at FCI Allenwood in Pennsylvania. He reportedly has 30 days to appeal the decision.
Giudice said she once tried to get Joe to apply for U.S. citizenship but never made it a priority over the years.
"When I married him, I didn't know. I remember I tried to make him, I tried to fill out the paperwork," she recalled. "It was never on my radar. It's not like I married an immigrant and I'm like, 'Oh my God, I have to make him an American citizen.' Never thought of that at all."
The "Real Housewives" star admitted she's "very angry" at her husband and several other aspects of her life. She added that Joe has lost three years of watching his children — Gia, 17, Gabriella, 14, Milania, 12, and Audriana, 9 — grow up at a young age.
"Of course I'm very angry," Giudice told People of her husband. "I'm just angry like a lot of things. I wish my husband would have crossed every T, dotted every I. There was also another person involved and nothing happened to that person, which is very sad."
TERESA GIUDICE SHARES PHOTO OF CRYING STATUE OF LIBERTY AMID HUSBAND JOE GIUDICE'S DEPORTATION
"There's a lot of scenarios. I lost my mom. I'm angry about that. You know? I lost time with my mom, because I was away. There's a lot. I lost time with my daughters while I was away. Children need their mom," she added.
Giudice, who served an 11-month prison sentence until December 2015, said she remains focused on raising her daughters.
"My four daughters, they're my main priority. So if I crumble up, it's not going to be good for them, you know? I have … to keep everything going as normal as possible for my four daughters," she said.