Taylor Swift's trial in Colorado DJ groping case explained
A jury reached a verdict in Taylor Swift's groping trial on Monday and after about three hours of deliberation, they ruled in favor of the pop singer, granting her a symbolic $1.
The decision by the six-woman, two-man jury was read Monday in U.S. court in Denver.
Per the ruling, the jury unanimously agreed that former radio DJ David Mueller was not entitled to compensation that he sought in his own lawsuit.
The trial was focused on a 2013 meet-and-greet in which Swift alleged that Mueller groped her during a photo opportunity by putting his hand up her skirt and on her bare backside.
After being fired from his radio station, Mueller sued Swift alleging that the pop star, her mother and her radio liaison purposely destroyed his career.
Swift then countersued for the $1.
"I acknowledge the privilege that I benefit from in life, in society and in my ability to shoulder the enormous cost of defending myself in a trial like this," Swift said in a statement following the verdict. "My hope is to help those whose voices should also be heard. Therefore, I will be making donations in the near future to multiple organizations that help sexual assault victims defend themselves."
The judge had tossed out Mueller's case against Taylor Swift on Friday.
U.S. District Judge William Martinez determined that the pop star could not be held liable because Mueller failed to prove that she personally set out to have him fired.
TAYLOR SWIFT TRIAL: FINAL JURY INSTRUCTIONS
Swift testified in court last week that Mueller groped her backstage after a concert.
The singer took the witness stand in a Denver federal court and said, "it was a definite grab. A very long grab."
The incident allegedly happened after a June 2013 concert when Swift was 23. Mueller, who was a radio personality with 98.5 KYGO in Denver at the time, met Swift after the concert.
TAYLOR SWIFT TRIAL: VERDICT FORM
After posing with Swift for a photo, Swift's security team later accused him of inappropriately grabbing Swift's rear end and he was subsequently fired, Mueller said in a lawsuit he filed against the star.
Swift stated in her deposition, "Right as the moment came for us to pose for the photo, he took his hand and put it up my dress and grabbed onto my ass cheek, and no matter how much I scooted over, it was still there. It was completely intentional. I've never been so sure of anything in my life."
There is a photograph that allegedly shows the DJ groping her.
Mueller testified in court this week that he and Swift were trying to reach around one another for the photo and "our hands touched and our arms touched." He added that he could have touched her "rib cage, or rib or ribs."
Here's what you should know about the case:
Mueller sued Swift first
Mueller sued Swift in September 2015 after he said he was fired from his job and lost other business opportunities because of the allegations.
TAYLOR SWIFT WINS PRE-TRIAL VICTORY IN RADIO DJ ALLEGED GROPING CASE
He has said that his former boss, Eddie Haskell, was the one who allegedly groped Swift after the Pepsi Center concert, claiming that he heard Haskell bragging about it, according to Billboard.
The Denver Post reported that Mueller was making a base salary of $150,000 when he was fired – not including bonuses, product endorsement fees and other public appearance fees.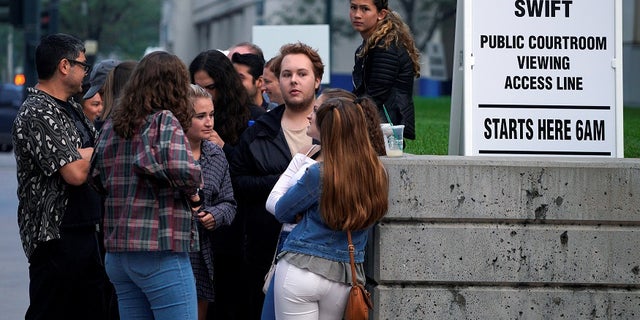 Swift countersued
Swift countersued Mueller in October 2015 – and demanded a jury trial, People reported at the time.
"Resolution of this counterclaim will demonstrate that Mueller alone was the perpetrator of the humiliating and wrongful conduct targeted against Ms. Swift, and will serve as an example to other women who may resist publicly reliving similar outrageous and humiliating acts," the countersuit stated.
TAYLOR SWIFT TRIAL: TESTIMONY DELAYED
Her countersuit claimed that Mueller was fired twice from other on-air radio jobs and hadn't worked as an on-air personality since May 2006.
Swift said that she would donate any money won in the trial to "charitable organizations dedicated to protecting women from similar acts of sexual assault and personal disregard."
Swift already won a pre-trial victory
A federal judge sanctioned Mueller last month as he admitted to losing or destroying electronic devices that could have contained key evidence – including a recorded conversation between him and his boss the day before he was fired.
Martinez said the lost data was critical evidence in the case.
More trial details
The trial started last Monday. Swift's mother, Andrea Swift, testified and said she didn't call the police as she wanted to keep the matter private and not have it define her daughter's life.
Mueller's lawyer, Gabriel McFarland, showed jurors the controversial photograph during his opening remarks. Two jurors stared at the photo on their computer monitors while a few others kept glancing at it as McFarland spoke.
"If you look at that photograph, his hand is not underneath Miss Swift's skirt, and her skirt is not rumpled in any fashion," McFarland said, noting that no one on Swift's concert team saw anything amiss.
The Associated Press contributed to this report.