Taylor Swift takes the stand: 'I felt him grab onto my bare ass cheek'
Taylor Swift testified Thursday former DJ David Mueller groped her during a meet-and-greet before a 2013 concert in Denver.
"It was a definite grab, a very long grab," Swift said in federal court in Denver, where the civil trial is taking place. "I felt him grab onto my bare ass cheek."
The singer testified she attempted to move away from Mueller but "he would not let go."
"He stayed latched onto my bare ass cheek as I lurched away from him quite quickly," she told the courtroom.
The 27-year-old said the alleged incident was "a very shocking thing that never happened to me before."
TAYLOR SWIFT'S TRIAL IN DJ ALLEGED GROPING INCIDENT EXPLAINED
She said, "After this happened, it was like a light switched off in my personality...[when it was over] I said 'Thank you for coming.'"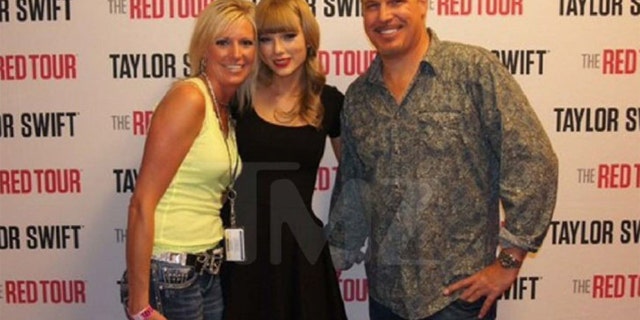 Swift said she didn't stop the meet-and-greets after Mueller left because she didn't want to disappoint a few dozen people who'd been waiting in line.
"This was something I did not want known," Swift explained adding she first mentioned the incident about 15 minutes later to her photographer Stephanie Simbeck.
In her testimony, the pop star was cordial, but direct and sometimes testy while being questioned by a lawyer representing Mueller.
When questioned about her reaction when she learned that Mueller had been fired over the allegations, Swift replied that she was not going to allow the lawyer or Mueller make her feel like it was her fault.
The "Bad Blood" singer also said security guard Greg Dent saw Mueller "lift my skirt" and grab her but that it was impossible for anyone to see Mueller's hand beneath her skirt and on her buttock because they were posing for the photo with their backs to a wall. She said that someone would have had to have been underneath her to see the actual groping "and we didn't have anyone positioned there."
Swift was more serious when asked her reaction to Mueller being fired.
"I'm being blamed for the unfortunate events of his life that are a product of his decisions, not mine," she told jurors.
"Do you think Mr. Mueller got what he deserved?" his attorney Gabriel McFarland asked.
"I don't feel anything about Mr. Mueller. I don't know him. ... I think what he did was despicable and horrifying and shocking."
Mueller, his hair white compared to his image from the photo op, stared at a table while the singer-songwriter testified.
Mueller testified Wednesday that the photo taken before the concert was "weird and awkward," but he insisted that he touched Swift in the ribs, not in the rear. Mueller testified his hand was touching Swift's skirt after he put his arm around her and their arms got crossed: "My hand was at rib-cage level and apparently it went down."
Swift's mother Andrea Swift testified through tears on Wednesday that she didn't advise her daughter to contact police. She said she didn't want the incident to "define [Taylor's] life."
Mueller sued Swift and others on her team, claiming they cost him his job and is seeking up to $3 million in damages. Swift countersued, alleging sexual assault, and is asking for a symbolic $1 judgment.
MORE: Taylor Swift's alleged groping photo
Swift's lawyers have said she does not know Mueller and has no incentive to target him or to fabricate a story.
The case is being tried in federal court under a law allowing the proceeding when the parties live in separate states and the dispute involves a damages claim higher than $75,000.
The Associated Press contributed to this report.