Tate Stevens wins 'X Factor' as runner-up's mom blames LeAnn Rimes for sinking daughter's chance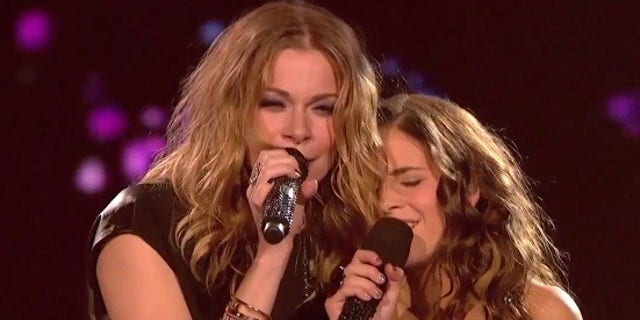 Country singer Tate Stevens won the second season of "The X Factor" on Thursday night as controversy engulfed the runner-up, Carly Rose Sonenclar.
Sonenclar's family thinks country star LeAnn Rimes is the reason she didn't win, TMZ reports.
Sources tell the web site that the 13-year-old singer's mom thinks Rimes severely hurt her chances when she said Sonenclar was "nervous and had trouble hitting the right notes" when the two performed a duet of Rimes' hit "How Do I Live."
"I was trying to help this 13-year-old girl who was having some trouble with the song," Rimes' told TMZ through her rep.
Rimes' performance seemed strange to fans, who worried maybe she was under the influence during the song.
"Was LeAnn Rimes drunk on last night's 'X Factor' performance?" one fan tweeted. "I heard she's been sick. Hope that's all."
"It's been 12 hours and I'm still laughing and crying at the hot mess that was Leann Rimes on the #xfactor last night," another wrote.
Other users tweeted Rimes appeared "unstable" and "tried to out sing" Sonenclar.
Rimes seemed to struggle during the song, often overlapping with Sonenclar's words and singing louder than the finalist. At one point during the duet, Rimes grabbed on to Sonenclar's arm, seemingly for support.
But the singer tweeted nothing was wrong with her during the show.
"In my 18 years of performing, I have never been anything but professional onstage. It is a shame that gossip and lies are overshadowing the performance of Carly, a very talented young girl," she wrote.
Meanwhile winner Stevens, 37, gets a $5 million recording contract.
More than 35 million votes were cast by viewers after Wednesday's performance show.
Thursday's show was also the grand finale for judge L.A. Reid. Earlier this month, he said he wouldn't be returning to "The X Factor" next year. No replacement has been announced.