Supreme Court Will Reconsider Anna Nicole Smith Estate Case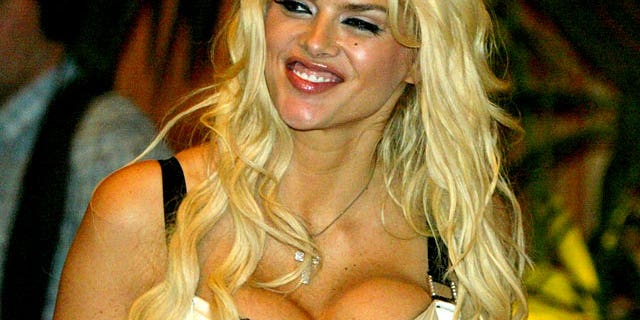 NEWYou can now listen to Fox News articles!
The Supreme Court will decide whether the estate of Anna Nicole Smith should get part of the fortune left behind by the elderly Texas billionaire whom Smith married in the mid-1990s.
The justices on Tuesday decided to reconsider an appeals court ruling against Smith's estate, which wants to capture some of the $1.6 billion estate of her husband, J. Howard Marshall, who died in 1995.
Marshall's will left nearly all his money to his son, E. Pierce Marshall, and nothing to Smith. The younger Marshall died in 2006 and Smith died of a drug overdose in 2007.
Smith challenged the will, claiming that her husband promised to leave her more than $300 million above the $7 million in cash and gifts showered on her during their 14-month marriage.
But the 9th U.S. Circuit Court of Appeals sided with a Houston jury that said Marshall was mentally fit and under no undue pressure when he wrote a will leaving nearly all of his $1.6 billion estate to his son and nothing to Smith.
Smith's estate is appealing that ruling.
Marshall's estate said it is ready to fight this ruling and noted other appeals in this case have yet to be heard.
"We have never wavered in our commitment to uphold the clearly stated and carefully documented wishes of the late J. Howard Marshall, II concerning how he wished the estate he created be distributed after his death," a statement from the estate said.
The convoluted dispute over J. Howard Marshall's money has its roots in a Houston strip club where he met Smith. The two were wed in 1994 when he was 89 and she 26. Marshall died the next year and his will left his estate to his son.
Smith challenged the will in a Houston probate court, alleging the billionaire's son illegally coerced his father to exclude the former Playboy model from sharing the estate. She alleged that her husband promised to leave her much more.
While the probate case was pending in Houston, Smith filed for bankruptcy in Los Angeles, alleging in federal court filings that her husband promised her a large share of the estate.
In late 2000, the bankruptcy court awarded Smith $474.75 million, which a federal district court judge reduced to $89.5 million in 2002.
But in the case's most recent trip up to the Supreme Court, Supreme Court Justice Anthony Kennedy in March 2009 refused to lift a court order that prevented Smith's estate from collecting that money.
Elaine Marshall, Pierce Marshall's widow, had argued that the order preventing Smith's estate from collecting the money should remain in place while the tangle of competing claims was sorted out.
Smith herself showed up at the Supreme Court in 2006, dressed in all black, to hear the justices debate whether she could pursue her late husband's fortune in court. She wept in the courtroom as justices discussed Marshall and whether he had intended to provide for his young wife in death.
The high court ruled in her favor that time.
Smith's 4-year-old daughter, Dannielynn Birkhead, was named Smith's heir in 2008 after she died of a drug overdose at 39 at a Florida hotel. The girl's father, Larry Birkhead, and attorney Howard K. Stern are in charge of the estate.
Stern is on trial for drug conspiracy charges involving opiates and sedatives allegedly given to Smith.