Sundance: Dave Grohl's 'Sound City' is an ode to analog recording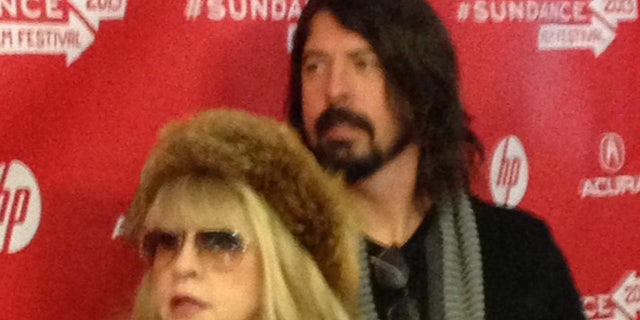 PARK CITY, Utah – The Sundance world premiere of Foo Fighters leader and former Nirvana drummer Dave Grohl's directorial debut "Sound City" showcases interviews with iconic artists who recorded world-changing albums at the now defunct Los Angeles studio, as it delves into debates about where the music industry is heading and the role technology plays in the creative process.
"Obviously 'Sound City' has this amazing history from Tom Petty to Fleetwood Mac to Nirvana etc., but then it delves into the battle between digital and analog, and the good and the bad of them both. But I am an analog man, especially for rock n' roll," Foo Fighters' drummer Taylor Hawkins told FOX411's Pop Tarts column.
"If people aren't really singing and playing their instruments then, well... I understand auto tunes can be used to enhance an effect but when someone is doing it to mask a lack of ability and then tries to sell you that as rock n' roll?" he said.
Hawkins also said that the industry has significantly changed since his days growing up listening to the Rolling Stones, and not necessarily for the better.
"Rock n' roll is really different these days. But I also think if you dig really deep you can find really great bands and music that is honest. The problem with digital and the manipulation is that it's dishonest," he said. "Some would totally disagree with me and that's fine. I am sure Jay-Z would say I am an a**hole and I don't know what I am talking about," Hawkins said.
Slip Knot band member Corey Taylor, who also appears in the film and recorded a song for the soundtrack, concurred.
"I am pretty vocal about my disdain (for digital). This used to be a genre or walk of life when you had to have talent," he lamented. "But technology has made it that you don't have to have talent, and I don't think that is right."
But on a more optimistic note, Taylor also hinted that Grohl has a strong journalistic career ahead of him if the whole music thing stops working out.
"Dave is a very natural interviewer. It felt like we were just talking," he said. "He got me to remember stuff I had forgotten about. It was awesome."
The idea for "Sound City" was essentially conceived by Grohl after he bought the legendary custom-built Neve 8028 recording console from Sound City Studios last year. The board, built in 1972, is considered by many to be the crown jewel of analog recording equipment, having recorded such artists as Neil Young, Fleetwood Mac, Tom Petty, Cheap Trick, Guns and Roses, Fear, Nirvana, Rage Against the Machine, Slip Knot, Nine Inch Nails, Metallica, and countless other musicians over the past four decades.
"If it weren't for that studio I wouldn't be here. There is something about that room and mixing console, something just happens. It was magic," Grohl told us ahead of the debut screening. "That board changed my life, it feels like a family. I wanted to make a movie that reflects that."
And while Grohl won't be trading music for movies anytime soon, he simply hopes to inspire with his directorial deut.
"I am no f**king director but I knew exactly what I wanted. I would have told you exactly the same story in 147 minutes if we were in a bar," he continued. "I wanted to show the next generation real music and inspire them to make real music."
Like Grohl, Stevie Nicks -- who too plays a key role in "Sound City" and attended the rock-studded Park City premiere on Friday -- has no intention of heading for Hollywood.
"I don't need to be a movie star, I make music," she insisted.
And what better place to seek inspiration than returning to the board that made her star in early 1970's.
"'Sound City' was our home away from home, it is where we recorded Buckingham-Nicks and Fleetwood Mac," she reflected. "All the days and nights we spent there recording songs that never saw the light of day, and hanging out with other artists. They say it is where real men went to make records. And that's the truth."