SpongeBob SquarePants, Dwayne 'The Rock' Johnson strike up Twitter bond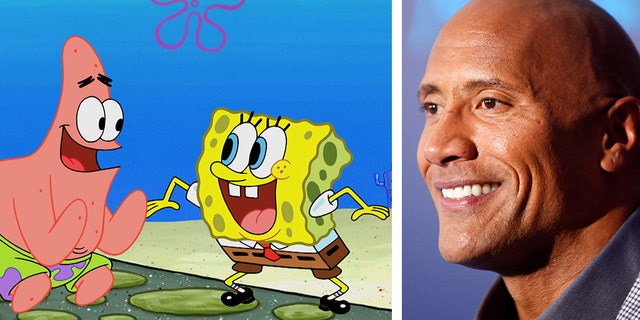 NEWYou can now listen to Fox News articles!
The Twitter account for Nickelodeon character SpongeBob SquarePants tweeted at Dwayne "The Rock" Johnson last week, asking about the origins of his moniker.
@SpongeBob on Friday tweeted a gif of the character Patrick Star, a starfish who is SpongeBob's best friend, saying "No ifs, ands or buts about it."
"Hey @TheRock, what inspired your nickname...Patrick Star's home? Either way, we love it! #SaySomethingNiceDay," it wrote.
The Rock wrote back to "Bob" in another message seeking clarification.
"Hi Bob, which nickname are you referring to?" he asked. "Big Daddy? The Rock? Samoan Thor? Beef Piston? Or the inappropriate one I earned back in college?"
JON STEWART LATEST STAR TO DEFEND SAMANTHA BEE'S 'C-WORD' IVANKA ATTACK
@SpongeBob eventually made a reference to Johnson's catchphrase, "Do you smell what The Rock is cooking?" in a tweet.
"Hi DJ, We earned one or two cool names ourselves back in boating school," the account said. It added in a post-script message, "Do you smell what the Bob is cooking? (It's Krabby Patties btw)."
"Krabby Patties" are the name of the popular burger the cartoon character makes at "The Krusty Krab" restaurant on the show.
The WWE Twitter account tweeted, "Move over, @Patrick_Star! @SpongeBob might have a new best friend in @TheRock!"
The SpongeBob account offered its own take.
"We always have room for more best friends. Also, Patrick loves rocks!" the account chimed in.
The Associated Press contributed to this report.