South by Southwest faces firestorm of scrutiny over immigration clause in contract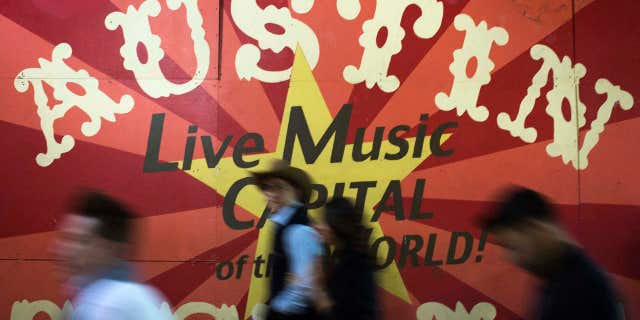 NEWYou can now listen to Fox News articles!
Uproar over language in the contract for performers at the South by Southwest music festival in Texas will force the event's organizers to review the documents for next year and future shows.
The outcry came after Told Slant, a New York City-based band, said they were pulling out of the Austin-based festival because of the language in the contract, which reportedly states that the festival can take action if international acts "adversely affect the viability" of their performance.
If international performers break the rules, "South by Southwest (SXSW) will notify the appropriate U.S. immigration authorities of the above actions. International Artists entering the country through the Visa Waiver Program, B visa, or any non-work visa may not perform at any public or non-sanctioned SXSW Music Festival DAY OR NIGHT shows in Austin from March 13-10, 2017. Accepting and performing unofficial events may result in immediate deportation, revoked passport and denied entry by U.S. Customs Border Patrol at U.S. ports of entry."
The band said they were not interested in aligning themselves with a place that interacts with immigration officials as a means of "controlling where art is shared and performed," according to the Houston Chronicle.
"This festival uses an imperialist model and prioritizes centralizing and packaging culture over communities and people's safety. It's no secret that SXSW has played a huge role in the process (of) Austin's rapid gentrification. The whole festival exists to the detriment of working class people and people of color in Austin," the band said.
Felix Walworth, a Told Slant band member, also urged other bands to boycott the show.
South by Southwest organizers responded to the uproar Thursday, saying the language in the contract has been set since 2013 and had only recently began receiving attention.
"In this political climate, especially as it relates to immigration, we recognize the heightened importance of standing together against injustice," organizers wrote in a statement on their website. "SXSW has never reported anyone to any immigration authorities, including Customs & Border Protection (CBP), the agency that deals with participating artists entering the United States ... The language in our Performance Agreement is intended to facilitate U.S. entry for international artists and to show CBP that SXSW takes visa issues seriously. This language has been part of the contracts since the summer of 2013, and we will be reviewing and amending it for 2018 and beyond."
Festival officials added that the langue was not aligned with President Trump's policies on immigration and went as far as saying it was against the president's travel ban.
"We have been coordinating with international acts coming to SXSW to try and mitigate issues at U.S. ports of entry, and will continue to build a coalition of attorneys to assist any who face problems upon arrival in the States," organizers said.
The music festival is still facing scrutiny despite its attempts to quell the firestorm.
Downtown Boys' Victoria Ruiz and Joey L. De Francesco sent an open letter to the organization expressing its outrage. It was co-signed by Killer Mike, Ted Leo, Screaming Females, Kimya Dawson and Ceremony, according to Rolling Stone.
Downtown Boys, Evan Greer and Priests also accused South by Southwest of "playing into the xenophobia emanating from the White House."
"Starting a brawl in a club is already illegal. If an artist were to do that, there is a clear way that the legal system and immigration officials would deal with it. There is no need for a contract clause like this to prevent that, and absolutely nothing requiring SXSW to narc on bands who are at risk for deportation," the group said in a statement to the music magazine.
Still, South by Southwest maintains the language was meant to inform international acts that if they performed at another show other than the Austin music festival, they could be in violation of the law.
The Associated Press contributed to this report.