Source: Custody battle between Halle Berry and Gabriel Aubry to get 'weirder and weirder'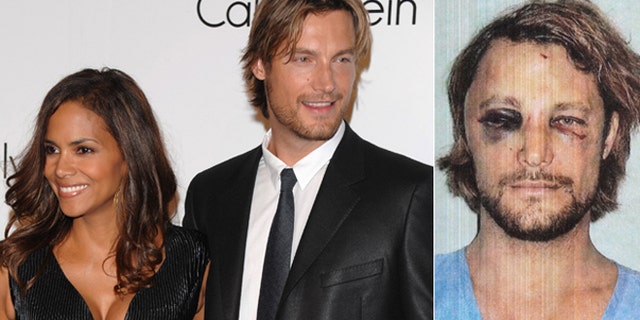 LOS ANGELES – The custody battle between Halle Berry and her former beau Gabriel Aubry over their daughter Nahla could get as gnarly as Aubry's face looked after a Thanksgiving fist fight with Berry's fiance, Oliver Martinez.
"Gabriel doesn't want criminal charges filed against Oliver (Martinez) over the recent assault incident, but he doesn't want his daughter around him, which is going to be a challenge," a source closely connected to the case told FOX411's Pop Tarts column. "But he does want full custody."
The estranged couple share joint custody of Nahla, 4, yet Berry recently requested permission to move her daughter to Paris, a move that was denied by a judge.
Tensions reached a breaking point last week when Aubry showed up at Berry's Hollywood Hills home and got in a physical altercation with Martinez. Aubry claims he suffered a fractured rib, bruises to the face and cuts which required stitches, but it was he who was arrested on suspicion of misdemeanor battery after authorities received a call about the fistfight.
Aubry insists that he was the victim and is currently seeking a restraining order against Martinez and has stated in court papers that Martinez threatened to kill him unless he told police that he was the one who started the fight. Aubry also went to court on Tuesday in an effort to lift the temporary restraining order Berry had placed on him following the altercation, but the request was refused by the judge. The temporary restraining order expires Thursday, although Berry could go back to request another. According to our source, it is likely that she will do just that.
TMZ also reported this week that law enforcement officials have determined that the altercation between Martinez and Aubry was "mutual combat," and therefore it is highly unlikely that charges will be fired against Berry's former flame.
But the legal hoopla is far from over.
We're told that as the custody drama intensifies, Aubry and Berry will both be required to undergo family court-appointed psychiatric testing, and that a minor's counsel (a lawyer appointed by the court to specifically represent the best interests of the child) will be brought in.
"This can be very intense, and the results can be very influential in determining custody and visitation rights," explained California-based legal expert Wendy Feldman. "And the court always appoints the psychologist as they want the process to be neutral."
Reps for Berry and Aubry did not respond to a request for comment.
"This whole battle is only going to get weirder and weirder," added our source. "You don't have your own people in family court, you don't have control, and family court in the U.S. is the most intense of all."