Sofia Vergara gets co-star's support amid court battle with ex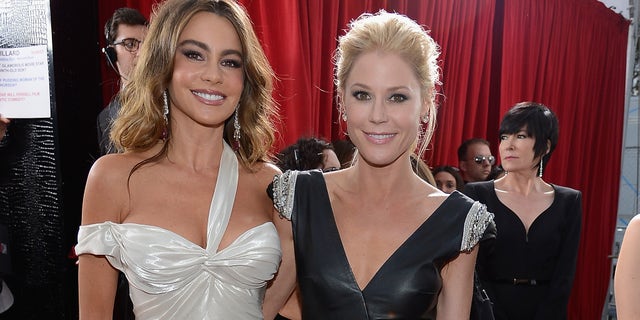 Sofia Vergara is getting all the love from co-star Julie Bowen, as she continues to battle her ex-fiance Nick Loeb in court over frozen embryos they created together.
"She is one of the kindest, best people I know. I am so sad that on the eve of all of her great happiness [of getting married] that had to happen. But at the same time, I know that she will be perfectly fine," Bowen told reporters at the Los Angeles County Museum of Art spring gala, according to The New York Daily News.
"She is a wonderful person. She's such a good person," Bowen went on.
The Colombian bombshell is involved in a messy lawsuit with her ex, who reportedly wants to prevent her from destroying two embryos they created and agreed to preserve.
The "Modern Family" actress, however, has denied she ever suggested destroying them.
Bowen, who plays Vergara's step-daughter on the ABC comedy, said she was very surprised by Loeb's lawsuit.
"Am I shocked? Yeah of course! Who isn't?" she said. "It's shocking. These are adults. These are all adults. Why is one acting so badly?"
She said Vergara is doing well on the set despite the headlines.
"I mean, she's sort of amazed," Bowen revealed. "I think she's a bit shocked because it kind of came out of nowhere. But she's a great person. And she's with a great guy … now. That's what I have to say about that."
According to a report by InTouch Weekly, Loeb filed a lawsuit regarding a pair of frozen embryos the former couple created about six months before they split last year. In it, he claims that his former flame refuses to agree to their preservation under all circumstances.
These are claims that Vergara refuted this in a statement by her attorney, saying she never wanted to destroy them.
"The claims made against Sofia Vergara by Nick Loeb are un-credible and hold no merit," her attorney, Fred Silberberg, said in a statement to People magazine. "Vergara has never suggested that she wished to have the embryos destroyed ... She has always maintained that they be kept frozen, a fact of which Loeb and his counsel have always been aware, despite Loeb's statements to the contrary."
In his own statement to Us Weekly, Loeb said he stands behind the lawsuit and that he always wanted to be a father and is committed to bringing these embryos to life.
"I have always strongly believed that life begins at fertilization and that every embryo is a life on the journey towards birth. I created these two female embryos with the purpose of taking them to term and not destruction, because I have always dreamed of being a father," the Onion Crunch creator said.
"I have previously offered to waive any parental or financial responsibilities or obligations on the part of my ex, and to even give her the opportunity to be involved with the child in the future, should she change her mind. I take the responsibility and obligation of being a parent very seriously."
Vergara and Loeb dated on-and-off for several years before calling it quits in May 2014, when the actress announced the split on social media. She has since become engaged to actor Joe Manganiello.
Like us on Facebook
Follow us on Twitter & Instagram