Snooki Arrested, Released for Disorderly Conduct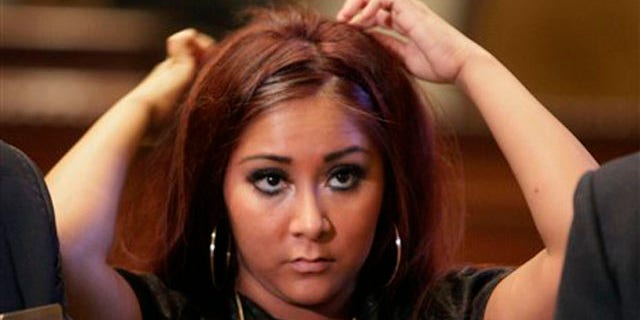 "Jersey Shore" star Snooki was released from jail Friday after being arrested earlier in the day in Seaside Heights, New Jersey, for disorderly conduct, Us Weekly reported.
The 22-year-old breakout reality television star, whose real name is Nicole Polizzi, appeared to be intoxicated as she was taken away by police.
"On Friday at approximately 15:23 hours, Nicole Polizzi was acting in a disorderly matter while on the beach," Seaside Heights chief of police Thomas J. Boyd told the magazine.
"Miss Polizzi was escorted from the beach by patrolmen and placed under arrest for disorderly conduct ... near the boardwalk.
"She was transported to police headquarters and later released on a summons."
A police spokesperson said that meant Snooki will be assessed by a judge in court at a date to be determined and will likely be ordered to pay a fine.
She was not required to pay any bail money to be released from custody.
Jenni "J-Woww" Farley wrote on Twitter Friday: "Going to bail @Sn00ki out of jail ... The things I do for this girl, I swear."
Entertainment website Hollywood Life reported that Snooki had earlier purchased a beer bong and was seen consuming shots from it. She was also seen doing body shots at a beachside bar.
The cast of the MTV show was scheduled to be in Seaside Heights this week to film the third season of the hit show, which follows eight Italian-American young people as they enjoy the summer at the beach.
The show's second season, filmed earlier this year in Miami, premiered Thursday evening.
More than 5.3 million people tuned in -- a 300 percent increase on last season's premiere -- becoming the network's second biggest premiere of all time, behind the second season debut of "The Osbournes."
In the first season of "Jersey Shore," Snooki was herself the victim of an intoxicated patron who punched her in the face in a bar.