'SNL' Latest to Take Shot at Letterman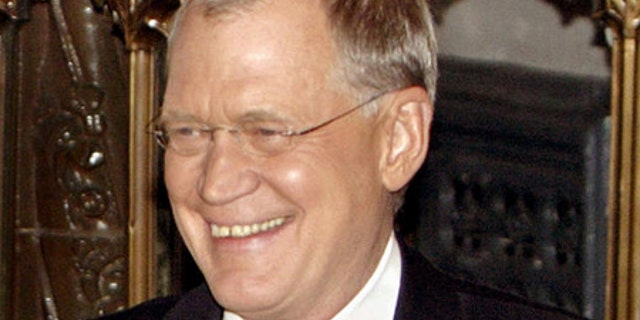 NEWYou can now listen to Fox News articles!
NEW YORK – Add "Saturday Night Live" to the shows making sport of David Letterman's difficulties. But in the hands of "SNL," Dave got off pretty easy.
On Thursday, the "Late Show" host had acknowledged having sex with some of the women who worked for him, and told his viewers he was the victim of a blackmail attempt.
On "SNL," "Weekend Update" anchor Seth Meyers dubbed the extortion attempt by a CBS News producer "a stupid human trick."
Meyers added that the would-be blackmailer was threatening to reveal embarrassing details of Letterman's personal life, then gave a joking example: "After sex, he would always say, 'Stay tuned for Craig Ferguson.'"
Letterman's fellow TV hosts Jay Leno and Jimmy Fallon are among comics who already had zinged him on their shows.
Leno kicked off his monologue Friday by declaring, "If you came here tonight for sex with a talk show host, you've got the wrong studio."
He continued, "The guy that was trying to blackmail Letterman was a producer for the show '48 Hours.' It could have been worse: At least he wasn't producer of 'To Catch a Predator.'"
Also on NBC, "Late Night" host Jimmy Fallon had his own wisecrack: "There's a new book out called 'Why Women Have Sex' that says there are 237 reasons why women have sex. And folks, Letterman knows the top 10."
ABC's Jimmy Kimmel spared Letterman in his Friday monologue.
So did Conan O'Brien on NBC's "Tonight Show." He also dodged the issue when guest Drew Carey brought it up.
"I would hate to be on opposite Letterman tonight with all that sex stuff going on," Carey said. "That's got to be tough."
"No comment," O'Brien responded quickly.
Still to be heard from: Jon Stewart on "The Daily Show" and Stephen Colbert on "The Colbert Report." Both Comedy Central shows are dark on Fridays, but will be back with fresh episodes Monday.
So will CBS' Craig Ferguson, host of "The Late Late Show," whose Friday edition had been taped earlier in the week. On Monday, the comically outspoken Ferguson will be able to add his zingers. But there's a potentially delicate situation: Letterman's Worldwide Pants produces his show. That makes Letterman his boss.