Simon Cowell Says Goodbye to 'American Idol'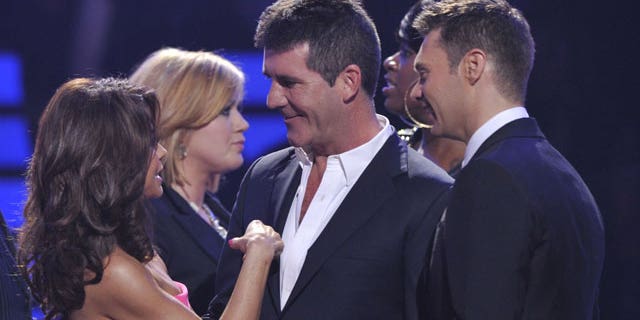 LOS ANGELES -- Simon Cowell was known for being nasty and mean to aspiring singers on "American Idol," but his final appearance on the show was a total lovefest.
The caustic judge was feted in film and in song during Tuesday's season finale.
There was a montage of his meanest insults ("It sounded like cats jumping off the Empire State Building ... just before they hit the floor") and memorable exchanges with fellow judge Paula Abdul.
She returned to the show to pay respects to Cowell, saying their work together "brought me immeasurable joy."
"I love all the fun we had together, I love all the laughter we shared together," she said, adding that the show "is not going to be the same without you, but as only I can tell you, it will go on."
Comedian Dane Cook offered a musical tribute, melding Cowell's quips into a song.
"You have the honesty of Abe Lincoln and the charm of the guy who shot him," Cook quipped.
Cowell said he felt more emotional than he'd anticipated on his final "Idol" episode.
"I just want to thank you from the bottom of my heart for the support, the fun and your sense of humor," he said. "That's what's been the best part."
"It's been a blast," he continued. "Thank you."
Then he hugged host Ryan Seacrest and kissed Abdul on the head.
Cowell was a man of few words as an "American Idol" judge, but they were choice.
What he said helped turn a singing contest into a pop-culture force that dominates American TV, even in its ninth season and with sliding viewership -- and whose future is clouded by his departure after Wednesday's season finale.
Cowell was so colorful and biting in his criticism that it felt like a bracing slap in the face of the performers, viewers and social convention. Brits such as Cowell may be accustomed to candor but Americans tend to err on the side of cheery positive reinforcement (exhibit A: most utterances by Abdul) and fluff (Randy Jackson's repetitive "Yo!").
Most importantly, the music industry veteran was authoritative and mostly on target. With the intimidating hauteur of a snobbish wine steward, he steered viewers to the proper assessment of contestants.
"You sucked the soul out of that song," Cowell told Andrew Garcia after his performance this season of Marvin Gaye's "Heard It Through the Grapevine."
"It was like a musical, the bad part of the musical," he said to Didi Benami after she tackled Linda Ronstadt's "You're No Good."
He was key to the show's early success, said Tim Brooks, a TV historian (co-author of "The Complete Directory to Prime Time Network and Cable TV Shows") and former network executive.
"His sarcastic -- but knowledgeable -- put-downs lifted the show from the traditional `Star Search' mold to something genuinely new on television, a talent show where not only was the competition fierce and the standards high but the judges were part of the entertainment," Brooks said in an e-mail.
Although viewers had a "love-hate" relationship with Cowell, Brooks said, "they knew he was the real deal, telling shaky contestants what they needed to hear."
His act wasn't all scowling Cowell. Handsome, with a penchant for snug T-shirts, he had a disarming wink for those he favored. And if he misjudged a gifted singer, it wasn't for long. Finalist Crystal Bowersox won an admission from Cowell that he had "completely underestimated" her as a serious artist.
"Simon's a rare bird. He's more honest than most people can handle, and I love that about him," Bowersox, 24, of Ohio, said Monday.
Cowell believes in "not changing who you are, but taking what you're good at and making it better," said Lee DeWyze, 24, of Illinois, Bowersox's competition.
The outgoing judge received more verbal hugs on Tuesday's broadcast.
"We really are going to miss you. You are a dear friend and we wouldn't be here without you," said Seacrest, who had a testy on-air relationship with Cowell this season.
Bowersox thanked Cowell for his help and wished him well before he weighed in on her performance of "Up on the Mountain," the last of the evening.
"Since this is going to be the final critique I'm ever gonna give, I would just like to say that was outstanding," Cowell said, ending his "Idol" judging run on a sweet note.
Throughout the series, Cowell scored with his "understanding of the music industry, his understanding of what it takes to be an artist," said industry analyst Shari Ann Brill.
Cowell, in turn, has been richly rewarded, making a reported $36 million a year for his work on "Idol" and founding his own TV empire.
After serving as a judge on British media mogul Simon Fuller's "Pop Idol" and helping sell the concept to Fox, Cowell went on to create a popular U.K. talent show, "The X Factor," a version of which is coming to Fox with Cowell as judge and executive producer. He's also a producer for NBC's "America's Got Talent."
On the music side, he's scored hits with singers including Leona Lewis, one of his U.K. talent show finds.
The big question for Fox and the producers of "American Idol" is how to follow his act. The man himself weighed in during an interview with Oprah Winfrey.
"You've got to have somebody on that panel who actually knows what they're talking about, because everyone is talking about casting the nasty person or this person or get another Brit in," Cowell told the talk show host.
When Winfrey said, "it's not about personalities. It's about who knows how to pick talent," Cowell replied that she was "100 percent right."
But personality matters, since reality shows "cast" roles with distinctive people, akin to the way scripted shows create and cast fictional characters.
With that in mind, Brooks said, it's worth considering how series faced with a star's departure succeeded by going with a different type -- Harry Morgan taking over for MacLean Stevenson on "M-A-S-H," or Kirstie Alley stepping in for Shelley Long on "Cheers."
"If it is to have a long life, `Idol' needs to evolve and change over time. Television audiences hate shows that become stale and repetitive, especially in prime time," Brooks said.
Bowersox said Cowell isn't irreplaceable and the series' success can continue.
"They could find someone who could do the job well in their own right. But he's been a major part of the show -- nine seasons, he's the guy," she said.