Sheila E. brought to tears during Prince tribute at BET Awards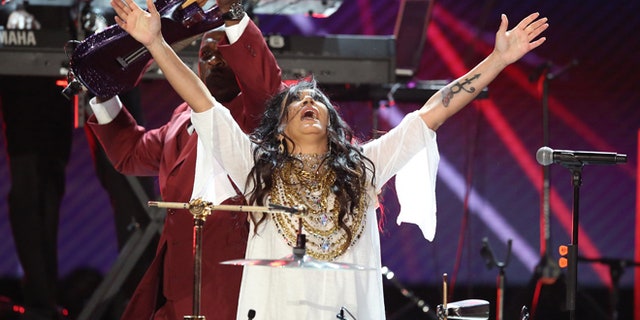 NEWYou can now listen to Fox News articles!
Sheila E. was brought to tears as she remembered and honored her longtime friend, collaborator and onetime fiancé Prince in a musical tribute at the BET Awards on Sunday.
The drummer, whose full name is Sheila Escovedo, took to the stage to close out the show and wailed on the drums as an entire band joined her for a medley of Prince hits including "Let's Work," ''A Love Bizarre," ''The Glamorous Life," ''America" and more. She was joined by "Purple Rain" actor Jerome Benton and Prince's ex-wife, Mayte Garcia, who danced alongside the background dancers throughout the set. They ended by raising a purple guitar in the air as the audience cheered them on.
"So much love," she tweeted before the show. "#BETAwards #CelebrationofPrince."
Escovedo's performance was only one of the several Prince tributes of the night, made in between calls for action over gun violence, civil rights and presidential politics.
The first of many performances was introduced by comedian Dave Chapelle, who said "that literally our hearts were broken" over the death of Prince on April 21.
Artists such as the Roots, Erykah Badu, Bilal, Maxwell, Stevie Wonder and more gave a multifaceted reflection on the late artist's musical gifts.
Highlights included Bilal's falsetto singing and his wild, rolling on the floor performance, Jennifer Hudson's emotionally arresting rendition of "Purple Rain" with Wonder and Janelle Monae's rocking medley and Prince-inspired outfits.
Hudson, rocking a white-hooded blazer, and Wonder, clad in a purple suit, sang "Purple Rain" — a month after the piano-playing icon performed the song with Madonna at the Billboard Music Awards, which BET dissed on Twitter. This time, Hudson was a vocal powerhouse, delivering screeching vocals while Wonder played piano and Tori Kelly was on guitar while a photo montage of Prince appeared on the purple-lit stage.
Monae was animated and funky as she danced skillfully and ran through Prince tunes, including "Kiss," ''Delirious" and "I Would Die 4 U." Bilal was sensual and passionate during "The Beautiful Ones," even lying on the floor while singing near the end of the performance. The Roots backed Bilal, and the band was also behind Erykah Badu as she performed "The Ballad of Dorothy Parker," singing softly as she grooved in place.
After singing an original song, Maxwell went into "Nothing Compares 2 U," changing some of the lyrics while honoring Prince.
Though the BET Awards were heavy on honoring the icon who died on April 21, the show went from Prince to political throughout the night.
"Grey's Anatomy" actor Jesse Williams, who earned the humanitarian award for his efforts as an activist, gave a fiery, nearly six-minute speech that brought the audience to its feet and earned a rousing applause.
"We're done watching and waiting while this invention called whiteness uses and abuses us, burying black people out of sight and out of mind while extracting our culture, our dollars, our entertainment like oil, black gold, ghettoizing and demeaning our creations then stealing them; gentrifying our genius and trying us on like costumes before discarding our bodies," he said onstage.
Williams was introduced by BET CEO Debra Lee, who spoke about gun violence and brought up the recent Orlando shooting at the Pulse nightclub.
"We all need to take stance against gun violence. You can make a difference," Lee said onstage. "Use your voice and vote."
When "Empire" star Taraji P. Henson won best actress, she encouraged the audience to vote against presumptive Republican presidential nominee Donald Trump.
"I'm really not political but it's serious out here, and for those who thing that, you know, 'Oh he's not going to win' — think again. So we really need to pull together and turn this country around," she said.
Co-host Tracee Ellis Ross said she was supporting Hillary Clinton and reminded viewers several times to "get yourself registered!" Clinton has a past with BET: She appeared at BET's "Black Girls Rock!" event in April and told the audience "my life has been changed by strong black women leaders."
The BET Awards wasn't all serious, though. Beyonce kicked off the show with a surprise performance featuring Kendrick Lamar and multiple background dancers of her song "Freedom," dancing in a pool of water to the song's heavy beat. At one point, Lamar and Beyoncé kicked the water and danced in sync, drawing a heavy applause from the audience.
Beyonce won video of the year and the fan-voted viewers' choice award for her hit, "Formation." Her mother, Tina, accepted the awards and said Beyonce had to quickly leave the show after her performance for a concert in London.
"I want to thank, first of all, her husband and her daughter," Tina said onstage.
Alicia Keys slowed things down with a performance of "In Common"; Fat Joe, Remy Ma and French Montana were energetic during "All the Way Up"; and Desiigner was excited as he rapped "Panda" onstage and in the middle of the aisles, as most of the audience nodded and sang along.
Beyoncé's mentees, the duo Chloe x Halle, earned a standing ovation after they sang impressively and played instruments.
Rising newcomer Bryson Tiller also performed. In a surprise win, the singer won best male R&B/pop artist, besting Chris Brown, The Weeknd, Tyrese and Jeremih. Tiller also won best new artist.
"Thank God, thank my mommy, thank my granny. This is my first award ever," Tiller said, who was also nominated for video of the year.
Drake, who didn't attend the show though he was the top contender with nine nominations, won best male hip hop artist and best group with rapper-singer-producer Future.
Samuel L. Jackson received the lifetime achievement award and was introduced by Spike Lee. Jackson ended his speech by offering praise to Williams, calling him "the closest thing I've heard to a 1960s activist."
"That brother is right and he's true, and when you hear what he said, make sure you vote and you take eight more people with you to vote, OK?" Jackson said. "Don't get tricked like they got tricked in London!"
Prince wasn't the only icon honored Sunday — Muhammad Ali was remembered by his daughter and Jamie Foxx.
"To me and my eight sisters and brothers, he was just dad," Laila Ali said onstage. "My father also once said, 'If people loved each other as much as they loved me, it would be a better world.'"
Foxx said Ali "stood up at a time when no one was standing up. So it's definitely more than boxing, more than entertainment."
Ali died June 3 after a long battle with Parkinson's disease.
Based on reporting by the Associated Press.
Like us on Facebook
Follow us on Twitter & Instagram