Shannen Doherty goes to Mexico to celebrate anniversary amid ongoing cancer battle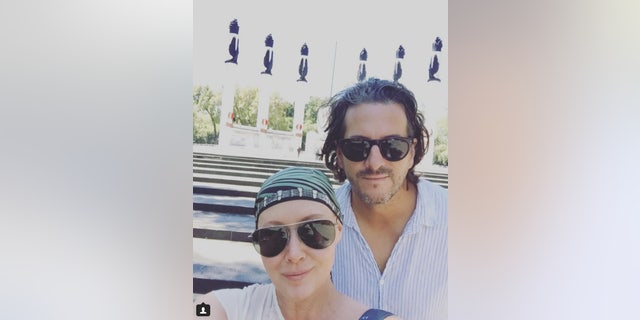 NEWYou can now listen to Fox News articles!
Shannen Doherty, who has been giving fans an inside and personal look into her ongoing battle with breast cancer, took a break from the chemotherapy to celebrate her five-year wedding anniversary with a short trip to Mexico.
The actress shared a sweet Instagram post over the weekend of her and husband Kurt Iswarienko petting a zebra.
"5 years ago today I made one of the best decisions of my life. I said 'I do' and married my best friend and soul mate @kurtiswarienko," Doherty wrote in a long caption. "Life has thrown us some huge curves and we have faced them together with strength, love, passion and a desire to stand next to one another thru it all."
She continued: "I have learned what partnership truly is with this man. Yes we love to travel and have adventures together like today... hanging out with Vicky the zebra but everyday is an adventure with Kurt regardless of where we are and what we are doing."
Iswarienko also posted a photo on Instagram celebrating their special day.
"6' O'clock in the morning. Electrical storm. Deep in the most magical part of #Mexico. The universe is alive and kicking. Happy Anniversary @theshando I love you," he wrote.
The "Charmed" actress revealed in August 2015 that she was diagnosed with breast cancer. This past summer, she revealed that she had a single mastectomy after the cancer had spread.
Since then, Doherty has given fans a personal view of her journey through social media with posts of when she shaved her head after starting chemotherapy, an image from a chemo session, as well as displaying her gratitude to friends and family.
"He loves me with pink hair or no hair," she recently wrote on Instagram. "I'm blessed to have such a strong support team starting with @kurtiswarienko who loves me more every second. Can't imagine my life without him."
She continued: "Cancer is not pleasant but it can bring out the best in relationships or the worse. Thankfully, it has made our marriage stronger."
The couple has no children.