'Shameless' star Emmy Rossum leaving the Showtime series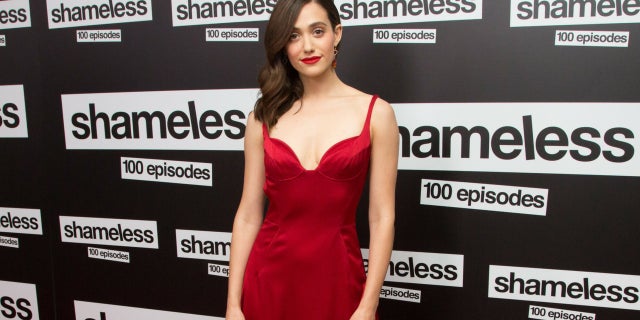 Actress Emmy Rossum announced on Thursday she will be leaving Showtime's "Shameless."
Rossum, 31, delivered the news in a lengthy Facebook post. The actress portrayed Fiona Gallagher in the comedy-drama that also stars William H. Macy.
The show follows the Gallagher family, with Macy playing the head of the dysfunctional household, Frank, as eldest daughter Fiona finds herself taking on much of the parenting responsibility for her younger siblings.
Rossum started her post by talking about the acting business and how she has become friends with the cast and the crew of the show.
EMMY ROSSUM SAYS 'SHAMELESS' EQUAL PAY BATTLE WAS 'STRESSFUL AND EMBARASSING'

"See, in real life, unlike Fiona, I'm an only child. I never had a big family. Being ensconced in that messy Gallagher family love is something I'd always dreamed of. But even offset, it feels real. We've watched the kids grow up into the strong, talented, independent human beings that they are," she wrote.
The actress wrote that she felt fans' connections to her when they saw her in public.
"We have made over 100 hours of television. That's no small feat. There's a new study that says it takes 100 hours to become friends with someone. The Gallagher's have been in people's living rooms for 100 hours. So, it makes sense. We can feel your connection to us, to these characters. In the airport, in restaurants, on the street, when people call out 'Hi Fiona' 'Oh my god, it's Lip' or 'Screw you Frank!'... it feels good," she wrote.
Rossum called the opportunity to play Fiona Gallagher a "gift," saying the character was a strong woman who never gave up.
'MODERN FAMILY' STAR ARIEL WINTER DEFENDED BY FANS AFTER TROLL SLAMS HER 'SEXY' STYLE
"I can say for certain that this cast and crew, who I've been truly honored to work alongside, are world class. I am proud and I'm filled with gratitude," she wrote.
"I know you will continue on without me, for now. There is much more Gallagher story to be told. I will always be rooting for my family. Try not to think of me as gone, just think of me as moving down the block," she concluded.
Rossum made headlines in 2016 following salary negotiations. She asked Showtime for the same salary as Macy, and revealed later that she got the pay parity she wanted.
"We were saddened when Emmy Rossum let us know that the upcoming ninth season of Shameless would be her last," Showtime Networks President of Programming Gary Levine said in a statement.
"But we are filled with an overwhelming sense of joy and gratitude for Emmy's inspired work on our series, of course in front of the camera but also behind it. Fiona Gallagher will always be one of Showtime's iconic characters, and we applaud Emmy for bringing this character to life in such a natural, touching and fearless performance. On behalf of everyone at Showtime and her millions of fans, we thank you Emmy!"
Season 9 of the series is slated to premiere on Sunday, Sept. 9.