Seth Meyers' wife gives birth to second baby in their apartment lobby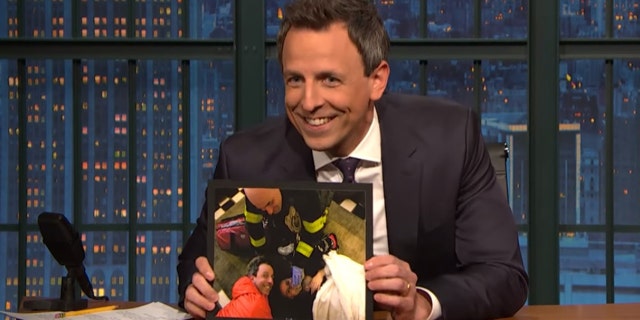 NEWYou can now listen to Fox News articles!
Seth Meyers has welcomed his second child – in a very unusual way!
The 44-year-old "Late Night with Seth Meyers" host shared the news during his monologue on Monday night, telling his viewers about the insane story behind the birth of his son, Axel Strahl.
Recalling how his wife, Alexi Ashe, almost gave birth to their first son, Ashe Olsen, in an Uber two years ago, Meyers quipped, "Move over, that story, because that's so normal compared to what happened yesterday."
Earlier in the day on Sunday, Alexi said she'd been "feeling something" while out at brunch and walking around the park and thought she might give birth shortly after. But she wasn't exactly prepared for how quickly the baby would come.
When Alexi realized she was going to have a baby, Meyers called yet another Uber, but this time they didn't make it inside.
Kelly Clarkson and Seth Meyers Get Insanely Drunk Together in Hilarious Sketch: Watch!
"My wife just says, 'I can't get in that car. I'm going to have the baby right now. The baby is coming,'" he noted.
Meyers then noted that he still thought Alexi was overreacting, trying to calm her down and telling her they had plenty of time. Even the couple's doula was telling Alexi it was OK.
"My wife was saying, 'The baby is coming. The baby is out,'" Meyers recalled, noting their doula then checked, only to confirm that the baby was coming out right then. "I looked at my wife. The only way to describe it, like someone hiding a baby in a pair of sweatpants. It was like somebody was trying to sneak the baby on a plane."
He noted that his wife laid down on the lobby floor, as he called 911.
"I called 911 and over the course of a minute conversation, I basically said, 'We're about to have a baby…we're having a baby… we had a baby,'" Meyers recalled.
The comedian noted that his wife was "incredibly calm" given the extreme circumstances.
Thankfully, members of the Fire Department and New York Police Department arrived shortly after the baby did, helping to cut the umbilical cord and his neighbors put towels in their dryers to help keep the baby warm right after its birth.
"No one offered me oxygen, I should point out," Meyers quipped.
The former "SNL" star managed to snap a crazy pic of himself by his wife's side on the floor of their lobby has a first responder held an oxygen mask up to her face.
Seth Meyers Delivers Biting Jokes About Kevin Spacey, Harvey Weinstein in Golden Globes Monologue
He also noted, "I should point out that we have not lived in this building for a long time at all. We just moved in at the end of last year. I'm so glad that we're already co-op approved, because I don't know."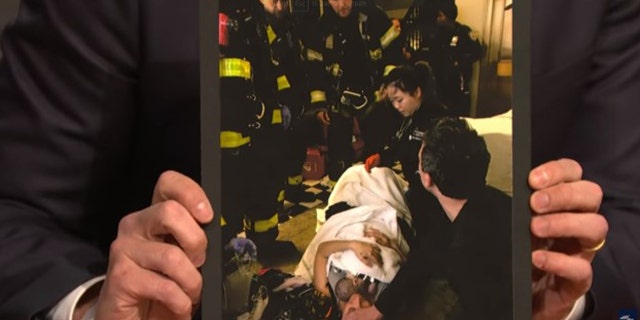 After the EMTs got Alexi to the hospital, Meyers noted, "everything was fine," and praised everyone who helped them, but quipped, "F**k the Uber driver who charged me, because we did you a huge favor."
Meyers added they picked the name "Axel" because they liked it, but quipped he'd tell his son that it was because firemen were there the day he was born. The little boy's middle name was picked for Alexi's grandparents who were Holocaust survivors who met the day after they were liberated.
In November 2017, Meyers announced the news that he was expecting his second child on his show with his parents and brother, Josh.
"I really wanted a brother for my son because I was so lucky to have one," Meyers said at the time.
How Seth Meyers Will Address Hollywood Sexual Misconduct as Golden Globes 2018 Host (Exclusive)