Schwarzenegger Love Child Son Is Spitting Image Of Ex-Body Builder Dad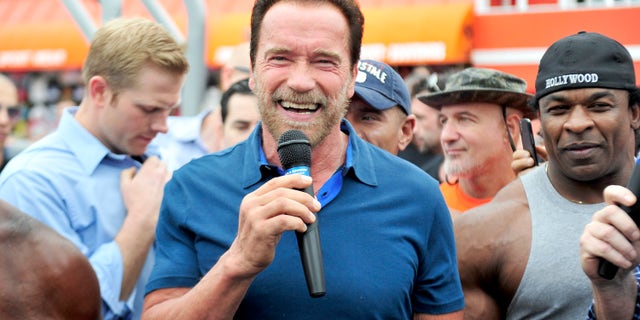 If there was any doubt that Arnold Schwarzenegger had a child with a former Latina housekeeper, there is none now.
Joseph Baena – who turned 16 on Wednesday – is looking more and more like his muscled father every day.
Baena, sporting a Batman tank and shaggy dirty-blond hair, was seen leaving his school swimming pool Tuesday, showing off his bulging biceps and toned torso. According to Daily Mail, the teen specializes in the butterfly stroke for his high school team.
While his Hispanic heritage derived from his mother Mildred is evident, Baena seems to have also inherited the chiseled physique of his action star father.
The duo was also seen strolling in Bakersfield, Calif., during a shopping excursion.
According to TMZ, the former California governor and his son have a close relationship and talk on the phone regularly. For his birthday, Schwarzenegger reportedly regaled him a complete gym.
A source told TMZ, "Once the truth came out, Arnold embraced Joseph. Since then, they've been slowly building a great relationship."
The news that Schwarzenegger fathered a child with Mildred Baena was confirmed by the "Terminator" star in 2011.
In a memoir released last year, the actor-turned-governor recalls his affair with the married housekeeper while he was married with Maria Shriver. Schwarzenegger and Shriver have four children together. The couple has since separated.
Follow us on twitter.com/foxnewslatino
Like us at facebook.com/foxnewslatino