Scene & Herd: Pop Tarts' Celebrity Sightings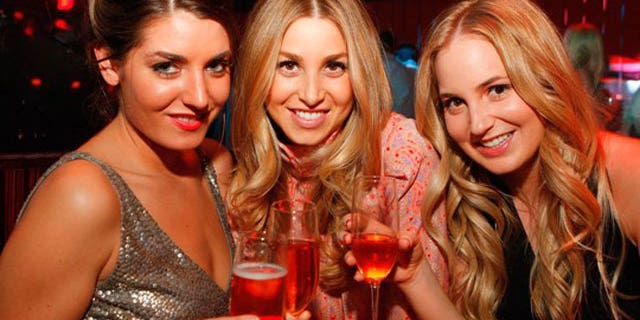 LOS ANGELES – Katherine Heigl carrying her Treesjie Dylan bag while out running errands with her new baby girl Naleigh in Los Angeles last Tuesday.
Aubrey O'Day (trying) to keep a low profile and sticking only to soft drinks while dining at Japonais in Las Vegas with her mom on Wednesday night. The two seemed to be deep conversation and Miss O'Day appeared quite upset throughout the dinner.
Will.i.am turning the tables as guest DJ at the Los Angeles stop of Dos Equis' Most Interesting Show in the World, an upscale, offbeat variety show on Wednesday night.
Lamar Odom hanging out with the Kardashian clan at the launch of Odom's new clothing line Rich Soil at Kitson LA on Wednesday night.
Paris Hilton, Kimora Lee Simmons and Dave Navarro attending the kick-off grand opening party for THREE APPLES---an exhibition celebrating Hello Kitty's 35th anniversary at Royal/T in Culver City on Thursday night.
Shenae Grimes talking about how she is terrified of clowns while Rachel Bilson discussed her "guiltiest pleasure" (tivoing Jeopardy!) while celebrating the launch of a new organic line of Invisible Children T-shirts designed to make a difference with music by Pete Wentz at the GUESS store in Beverly Hills on Thursday night.
Rumer Willis supporting boyfriend Micah Alberti at the premiere of his film, FORGET ME NOT in Hollywood on Thursday night. Later in the evening, Demi Moore and Ashton Kutcher met up with the pair as they partied the night away at the film's after party at Café Was.
LeAnn Rimes stopping into Encore Hotel's Society Cafe (on her own) in Vegas for a quick breakfast on Friday morning.
Senator John McCain's daughter Meghan McCain partying in a VIP cabana overlooking the dance floor with seven friends at Rain Nightclub inside the Palms Las Vegas on Friday night.
Fergie, Will.i.Am, Apl.de.ap and Taboo of the Black Eyed Peas surprising partygoers at The Bank Nightclub on Friday night when they got on the mic for a few songs at their official concert after-party.
Whitney Port and good friends, including co-star Samantha Swetra, hosting Friday night at JET NIGHTCLUB at The Mirage where they mixed and mingled with partygoers and danced into the wee hours of the morning. Earlier in the evening, Port and her friends enjoyed dinner at FIX where they shared Kobe Beef Sliders, Spicy Tuna and Yellowtail Sashimi while sipping champagne.
Brittany Snow and Ryan Rottman kicking off a day of service and building at the Newman's Own "Make a Difference Day" Volunteer Breakfast with Habitat for Humanity in Lynwood, California, on Saturday. The pair helped to serve breakfast to the more than 75 volunteers participating in the site build, which will be the future home to 10 low-income families.
"The Real Housewives of New York and New Jersey" apparently needed to unwind this past weekend. Jill Zarin, Countess LuAnn de Lesseps, Dina Manzo and Theresa Giudice all visiting the Qua Baths & Spa at Harrah's in Atlantic City for facials and massages.
Jamie Lee Curtis arriving in her hydrogen car dressed as "Mother Earth" to the Children Affected by AIDS Foundation's 16 Annual Dream Halloween in LA on Saturday.
Jessica Alba and Cash Warren hanging out at the Hard Rock Hotel & Casino Las Vegas on Saturday night where they took a private hard hat tour of the new luxury HRH Tower set to open in December. The couple also caught a concert by the Steve Miller Band and then tried their luck at the high limit gaming tables.
Katy Perry celebrating her 25th Birthday alongside new beau Russell Brand with Willy Wonka themed bash complete with candies and chocolates and colorful cocktails provided by 42 Below vodka in a private space in West Hollywood on Saturday night.
Paris Hilton screaming wildly alongside boyfriend Doug Reinhardt during a private tour of Fright Dome in Las Vegas while celebrating Doug's birthday on Saturday night. Before they left Paris and Doug made the "grand entrance" - surprising guests waiting to get into the attraction, they couple drove up with scary characters in tow in Fright Dome's custom hearse.
Jennifer Hudson touring Titanic: The Artifact Exhibition and BODIES… The Exhibition inside Luxor Hotel & Casino Sunday with her new fiancée David "Punk" Otunga. The couple was seen happily holding hands and hugging as they strolled through the Exhibitions stopping to read much of the posted information.
Ashley Greene spending a crazy nine hours at The Parlour on 3rd in Los Angeles on Sunday getting hair extensions and passing the time by reading and playing with her pup. The "Twilight" starlet was later spotted rocking her new locks at the U2 concert that night.
Olivia Wilde, Ed Begley Jr. and Sir Richard Branson supporting the planet at the Environmental Media Awards at Hollywood's Paramount Studios on Sunday evening.
Khloe Kardashian celebrating "Closet Sundays" one-year anniversary with her friends at The Beatles Revolution Lounge.
Orlando Bloom, Ryan Philippe, Justin Chambers and Kate Beckinsale's hubby Len Wiseman all showing up to BlackBerry's VIP Lounge (sans their ladies) and filling up on sliders and sushi before U2 took the stage in LA on Sunday.
Kelly Clarkson performing a five-song set for the 101.9FM MIXperience after-work concert hosted by local radio favs "Eric & Kathy" at uber popular River North hot spot HUB51 late Monday afternoon.
Lo Bosworth leaving The Hills behind for the desert, hosting the Verizon Wireless Samsung Rogue launch event at JET Nightclub at The Mirage on Monday night.
Robert De Niro, Hilary Swank, Charlize Theron, Julianne Moore, Bradley Cooper, Kate Beckinsale and Zooey Deschanel all in high spirits at the Hollywood Film Festival's 13th Annual Hollywood Awards Gala Ceremony in Beverly Hills on Monday evening.
Kelly Ripa, Mark Consuelos and their three kids cheering on the New York Rangers during Monday night's sold out home game at Madison Square Garden. Newlyweds Claire Danes and Hugh Dancy were also in the stands to witness the Rangers' 5-2 victory over the Phoenix Coyotes.
Joe Jackson dining at Simon at Palms Place before heading over to ghostbar inside Palms Casino Resort with an entourage of 25 people on Monday night.
Maria Shriver, Kathy Griffin, Kate Gosselin and Mario Lopez aligning on Monday for the kick off of the 2009 Women's Conference hosted by Maria Shriver and Governor Schwarzenegger at the Long Beach Convention Center.
Lance Bass chilling at the 944 Magazine Tuesday night party at Blue Door at Delano in Miami followed by cocktails at a corner table at the property's The Florida Room.
Melanie Brown, aka Scary Spice, recently piped up about a Spice Girls reunion that will "happen very soon" (sans Victoria Beckham) however a source very close to the pop princesses confirmed to Tarts that sadly, talk of a reunion just ain't true.
Miranda Kerr and Orlando Bloom enjoying a lovers lunch at Asia de Cuba at the Mondrian in LA. Initially hoping to dine alfresco, the casually dressed couple had to move indoors from the Arbor to escape the wicked afternoon winds.
Janice Dickinson looking radiant and stylish while picking up a bottle of VITAFORCE at The Vitamin Barn in Malibu on Tuesday afternoon.
Tito Jackson telling us that the biggest thing we'd be surprised to know about his brother Michael Jackson is how wonderful a father he truly was at the premiere of "This Is It" in Downtown Los Angeles on Tuesday evening.