Sacha Baron Cohen revives 'Borat' character to talk politics, midterm election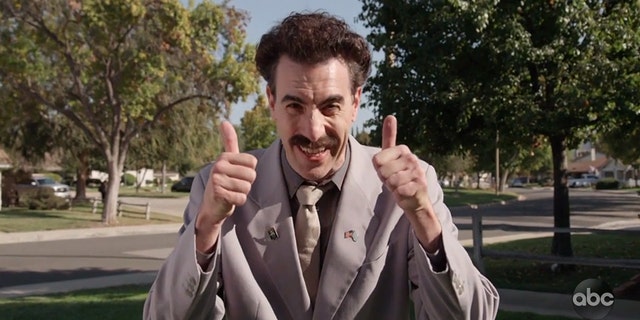 Borat, the well-known character portrayed by comic actor Sacha Baron Cohen, made an appearance in a southern California neighborhood to talk politics and the midterm elections, as seen in a video that aired Tuesday on "Jimmy Kimmel Live!"
TV host Jimmy Kimmel, who had the actor on his show as a guest, explained Borat's venture in Los Angeles.
SACHA BARON COHEN CHARACTER INTERVIEWS OJ SIMPSON ON 'WHO IS AMERICA' AND JOKES ABOUT KILLING WOMEN
"We asked you if you would to go a wealthy neighborhood here in Los Angeles -- oh, I'm sorry, we asked your friend, if your friend would go to a wealthy area of Los Angeles and talk to people about the elections today and the state of American politics," Kimmel said. "And, well, here's what happened."
In the video, Borat, a fictitious Kazakh journalist, is seen standing outside, with a polling station sign visible in the background, and he tells the camera that he's arrived "to do election tampering."
SACHA BARON COHEN'S 'WHO IS AMERICA' PRANKS DIDN'T TRICK EVERYONE
"Russia interfere with the presidential election. But now, all eyes are on them," Borat said. "So, it up to Kazakhstan to swing the midterms for Premier Trump."
Borat spoke with various individuals in the video and also visited a polling station.
After the video, Kimmel holds up a DVD of Cohen's show "Who is America," a Showtime seires where Cohen, portraying an array of offbeat and fictitious character, has tricked political figures, among others, during interviews.
Fox News' Tyler McCarthy contributed to this report.