Ricky Martin and Juanes pen moving letters to their kids for Father's Day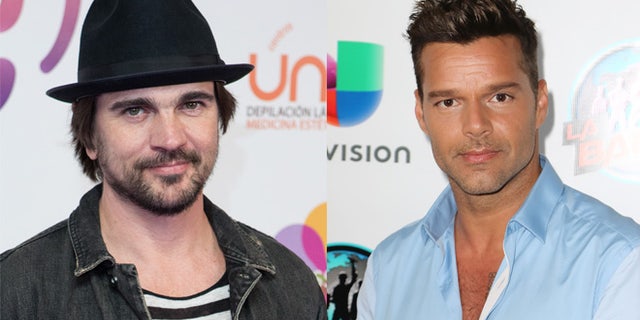 NEWYou can now listen to Fox News articles!
For Ricky Martin and Juanes, being 'papi' to their respective children is the most amazing feeling in the world.
As part of Time magazine's annual "Letters From Dad" series, the two Latin music superstars wrote heartfelt letters crediting them for positively changing their lives.
"Above all, my beautiful sons, your love gave me the strength to live an honest life," wrote Martin, who came out as a gay man in 2010. "A life of courage and transparency which fills me with great pride and peace. What an amazing gift you have given me, and I'm forever grateful."
The Puerto Rican singer, who is father to 6-year-old twins Matteo and Valentino, said he was "incredibly grateful, honored and blessed" to be their father – something he had dreamed about for many years.
"The first time I held you in my arms, the world stopped for me," Martin continued. "The most beautiful and indescribable feeling took over. I felt the purest form of love for the first time in my life."
Signing off his letter, Martin writes: "If there is anything I want you to live with, aside from knowing that you are unconditionally loved and adored by me and our family and friends, it is that you can be YOURSELF. Don't let anyone or anything make you feel like you can't be your true self."
In his own letter to children Luna, Paloma and Dante, Juanes echoed similar sentiments, saying he felt such strong emotions each time they came into the world.
"I would feel a mixture of joy and nerves come over me that I could not describe with words alone," he wrote. "And then, in the blink of an eye, as when a candle is lit in the darkness, you would appear, illuminating the whole place."
The Colombian rocker said the birth of his children made his reconnect with his father and mother, "completing this mysterious and magical circle of existence."
"At first, I imagined that my mission as a father would be to teach you everything I knew about life: the physical, the intellectual, the spiritual. But as the days passed, I realized that I would be learning from you. Yes, you read that right—I would also be your student," he wrote. "The purity of your souls, your innocence, reminded me that I, too, one day came to this world like you, innocent and with a pure soul."
Juanes, whose letter is also available in Spanish, ended his letter with a little bit of advice for his children.
"Give love and you will receive love. Before you judge someone, first put yourself in their shoes. And remember that fear should only make you more alert, not paralyzed," he wrote. "Never stop being you, and believe in yourself. No matter what anyone says, you are unique—there is only one you, and that makes you special. I love you."
Like us on Facebook
Follow us on Twitter & Instagram