Report: Sean Hannity, Rush Limbaugh could be moving radio homes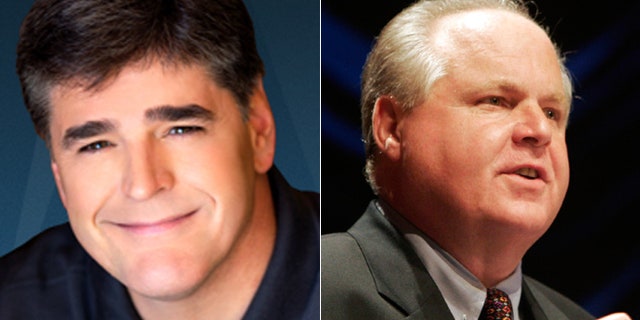 Sean Hannity and Rush Limbaugh may be setting up shop at new radio stations in the near future.
According to a report on Politico.com, Cumulus Media is planning on dropping both talk show hosts at the end of the year.
If Cumulus goes through with their plans, that means the nation's top two conservative radio personalities would be removed from more than 40 stations.
The company declined comment to the political website.
"Cumulus is not in a position to comment about negotiations with talent under contract, no matter what the rumor of the day might be," a rep said.
Sources told Politico.com that regional hosts, as well as Cumulus radio talent like Mike Huckabee and Michael Savage, could fill the vacant slots.
Premiere Networks syndicates both Limbaugh and Hannity to Cumulus. Premiere is owned by Clear Channel, which has several stations that could serve as home for the hosts should they leave Cumulus.
Reps for Hannity and Limbaugh did not respond immediately to Politico.com's request for comment.